1611 Producer/Composer Inhouse Junior.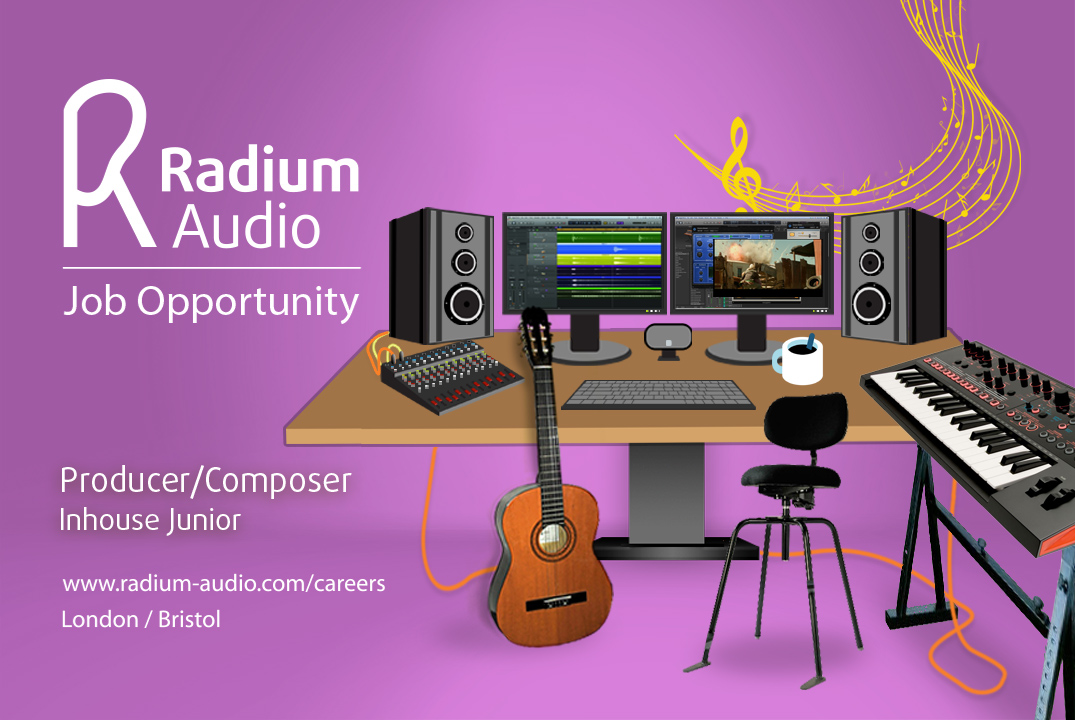 UPDATE 22/01/17
Thank you very much to everyone who sent in submissions! Applications for this position officially closed Friday 20 January 5pm. We've received a total of 347 applications for the role, and the standard of these has been very encouraging. Many people who applied have already heard back from us about their final outcome. However, there are 17 submissions still being considered, in addition to 74 last minute applications received this past week, who won't have heard from us yet. Right now we have a shortlist of 5 for the role, who have completed initial interview stages and are now moving to next steps. There is the possibility we could add to that shortlist from submissions still being reviewed, so if you haven't heard from us yet, then you're still under consideration for the role. We do expect to get back to everyone who applied in the next fortnight. If you've only just seen this position and you'd have wanted to apply but it's too late, you can always reach out to us via our Open Submissions route.

UPDATE 05/01/17
Happy 2017 everyone! We have a strong shortlist forming from 1st & 2nd phone interviews conducted before Xmas and again this week, and we're soon to commence final demo stages for those people. So we're now setting formal closing date for applications, which will be 20 January at 5pm. No new submissions for this particular role will be considered after that time. For those of you who haven't heard anything from us after the email receipt for your initial application, don't be discouraged just yet. Some applicants are pre-shortlisted pending further review before we potentially make contact to arrange initial phone chat. Additionally, the team will be making a final pass through ALL the submissions over next couple of weeks to be sure we didn't miss anyone we should be talking to further about the role. If you haven't applied yet and would like to, there's still time. So go ahead and get your submission into us, we will accept these for review up until 5pm Friday 20 January.

UPDATE 18/12/16
People have been asking us if we're still accepting applications for this position, and we've had many requests for time extensions beyond close of formal advertising which was Friday 16/12/16. We've had some really great submissions and initial phone interviews are already in progress. However, given the level of interest and people still wanting time to get applications in, we've decided we won't be closing off before New Year. Of course as promised, when we do set the closing date, we'll give at least a week's notice so anyone not quite done has a chance to finish up and send in their submission. So go ahead, finish your demos, compile your email as we've requested, and send it in – there's still time!

UPDATE 29/11/16
Applications for this role are coming in steadily, and at first listen we're really encouraged by the standard of some of these. We're definitely happy we've asked for bespoke demos with initial applications this time rather than reserving these for later shortlisted stages as we have in the past. It's now much easier for us to hear immediately who we should be talking further with, instead of having to make an educated guess from checking out past work which may or may not be relevant to what we're looking for. Formal team review of the submissions received so far is in progress. Initial reachout to applicants who have caught our attention is expected to start beginning of December. Don't worry if you haven't had time to get your submission in yet – we're still accepting these. As we said, we'll definitely give at least a week's notice before we close off!

THE ROLE

We have a new full time position available on our Bristol team for a junior Producer/Composer, working inhouse with us using latest kit and production techniques, immersing in our world of cutting edge trailer and advertising projects. The right person will likely be a recent graduate at very early stages of their media career, have an interest in film trailer music, and be very adept with the usual DAWs – Logic and Pro Tools in the main, possibly with some knowledge of Ableton and/or Sibelius to complement. We've found in the past multi-instrumentalists with strong piano/keyboard competency tend to integrate very easily into our world, however we're open to any and all backgrounds. Ability to write emotionally hooky melodic motifs and compelling arrangements, with production flair to hybridize a dramatic style flowing between orchestral, pop, and electronic flavours is essential. For inspiration, here are some trailers we sonically love …

Dr Strange
Eye in the Sky
In the Heart of the Sea
Wonder Woman


You may not have the studio setup available to get to this technical standard, or the genre experience to 110% nail something like this just yet – that's ok! Your application will show us your musical range and instinct for heightened emotion. Additionally, you should already have self-honed your writing, arranging and production chops enough for us to hear that you only need three more steps on the ladder to be creating at full strength – being the genre specific production tips and tricks we'll teach you, access to all the tasty kit in our studio, and a quick steep learning curve working inhouse with us, soaking up our creative approach..

If you'd like to apply, here's what to do:

1. Create 2 New Demo Tracks

Show us where you're at right now on composition and production, by creating 2 completely new and original demo trailer tracks, each one approx 1:30 – 2 mins long. We suggest taking some inspiration from the 4 trailer links we've shared above, and we strongly recommend also taking some time to check out some of the other epic trailer music available online. There are different styles however they all have common elements which enable the trailer advertising art form to succeed at its essential task. We've asked for 2 tracks because we want you to take the opportunity to give us a really good idea of your range. We need to be able to review your 2 demo tracks as easily accessible streamable audio files. Passworded links are fine so long as you remember to include the password.

2. Cut & Sync Your Demos to Picture

So we can see how you work to picture, edit and sync up each of your 2 demo tracks with a reasonably current film trailer in an appropriate style ie pick action, thriller, scifi, something tense and dramatic with plenty of life and movement. Feel free to edit your tracks to picture, strip back to instrumental stems, change styles to complement the action (keeping the common motifs recurring throughout) augment with sound design, do whatever you think is right for the visuals. These should be submitted ONLY as passworded streamable links, and definitely not opened up for public viewing. We recommend that after we announce we've filled the role, you should take down/delete from whichever cloud/streaming service you're using the videos you redesigned.

3. Label Your Email

Please ensure you format your email subject line like this "1611 Producer/Composer [Your Name][Your Mobile No]" so we know you're contacting us specifically about this role.

4. Follow Our New Open Submissions Guidelines

In addition to these 4 demos we've mentioned above, which should appear as 4 streamable links at the top of your email, we're also interested to see your other work and CV. So please also be sure for the remainder of your application, to follow all the guidance on our Open Submissions page. Your "1611 Producer/Composer" application will differ from a standard "Open Submissions" application only as follows:
a)the email subject line format is different
b)you'll have the extra 4 demo links created bespoke for this application as requested above.

5. Double Check: Did You Create and Include the Bespoke Demos We Requested Above?

Please be sure to complete and include your 4 bespoke demo links requested above in Steps 1 & 2 before getting in touch about this role. ONLY applicants who have included these are eligible to be reviewed and considered for the position. Applications for this role which are missing these demos will NOT be reviewed. Note: Past work and university assignments don't qualify as the bespoke demos we've requested above, even if you personally may feel the genre is similar.

6. Double Check: Did You Carefully Follow All the Instructions Above?

So, you've gone back through steps 1-5 and you've totally understood and followed everything we said? You've formatted your subject line correctly, included your 4 bespoke demo links, checked out and followed the additional guidance for including past work, personal info and CV attachment on our Open Submissions page? If your answer is "YES!!" then go ahead and hit "send" on your email. We're really looking forward to reviewing your submission!!

Helpful Hint …

If possible, try not to rely totally on virtual instruments and samples to create your demos. Real performances and recordings, and unique sonic motifs can give a very individual sonic flavour to a trailer soundtrack, which we love. It's up to you which way around you prefer to complete 1 & 2. Whether you want to write the tracks first, then edit and sync to picture, or alternatively write the tracks specifically to picture, then edit them afterwards into fully structured trailer tracks, is up to you. Let us know which way you did it, we're interested to hear!

Application Closing Date

We haven't set a specific closing date for applications at this point. Our Careers Newsletter subscribers privately received the details about this role at the end of October, and we started live external advertising 15th November, which is set to expire on the 16th December. We'd really like to find someone for this role as soon as possible, so it's likely we'll set a closing date when we've got a good shortlist from submissions received. When that happens, we'll give 1 week's notice before cutoff and we'll post that info right here on this page, as well as on Facebook. So go ahead and get your submission into us just as soon as you can!

RECENT FAQ's

Here are some common queries we've had in about the application process:

1. What's the Closing Date?


We haven't set a specific closing date yet. Ideally we'd like to find someone asap. When we're close to having a robust shortlist, we'll give a week's notice that we're about to close off, so anyone who wants to apply but hasn't quite finished their submission has a few more days to get it done.

2. Do You Want Sound Design On the Videos?


It's not essential, however feel free to add some if you think it really enhances the piece. It is super-handy in studio if we're pushed for time, and you can handle this occasionally without passing it to the sound design team!

3. If I'm Successful, Will You Hold the Job Open Until I Graduate?


That depends when you graduate. If it's Jan/Feb 17, that's not necessarily a dealbreaker. Later than that, and you're best to apply using our Open Submissions route on the basis that you're available only as a part time freelancer until such time as you've finished your course of study.

4. Does My Application Format Really Matter?


Yes, it definitely does. In studio, you'll be working with a busy team executing complex written briefs, so we need to know you can correctly interpret and implement a set of written creative and formatting instructions with very little in the way of false starts or micromanagement from others. If your job application is executed just the way we've requested in the job ad, you've passed the first test, which is showing us you can do that.

5. I Haven't Got Time to Make the Requested Bespoke Demos – Is That OK?


In short, no. Only applicants who submit the bespoke demos we've requested will be considered and reviewed for the role. We do understand it's much easier to just quickly email through a CV, some work examples you've done before, and a quick covering note. However, this can place potentially great candidates at a real disadvantage purely because they weren't fortunate enough to have had past involvement in the right sort of projects creatively/stylistically to get our attention. This way, everyone who wants to apply has a level playing field opportunity to show us they're right for our team.

6. Why Would There Be Any Difference Between My Pure Audio Track, and the Version of the Audio Synced to the Video?


Sometimes the a/v music edit is a little different to the straight music cut – each context has a different set of storytelling requirements. In the a/v edit the pictures do a lot of the work, and sometimes (though not always) it can be appropriate to use partially stripped back sections of a track, or add musical sound design elements, to properly express what's happening and get the right feel. In the pure music track, the music has to do all the work to tell the story. We've left it to your discretion whether you want to write to picture first then beef up your track if/where necessary later, or write the track first then edit to picture. We're assessing two separate things here. First, we're assessing your music writing & production ability. Second, we're assessing your feel for working to picture. It's totally up to your own artistic judgment which changes, if any, you make between the pure audio, and the a/v version, of each track.

7. Why Do I Need to Refer to Both the 1611 Producer/Composer Job Ad, and the Open Submissions Requirements, to Format My Application?


Your 1611 Producer/Composer application requires:


(a) 4 streamable links to the requested bespoke demo material
(b) a specific email subject line format relating to the Producer/Composer role
(c) information about your past work, current situation, and CV attachment

(a) and (b) are specific to your application for this Composer/Producer role. (c) is almost exactly the same as what you would need to do for an Open Submissions format. So rather than duplicating all the info in 2 places, we point you in the right direction to find out what you need to know to complete (c). Also, refer Question 4 above …

8. I Think I Need to Redo My Application. Is that OK?


Yes, that's fine! Back on the 24/11 we amended the job ad page to make things much clearer for everyone, on the basis of feedback and questions received, and emailed everyone on the Careers Newsletter mailing list to let them know about that. All of the information above has always been in the job ad, and most of our applicants have read through carefully, understood and followed the instructions. However as a few people found the info unclear, we updated the ad so that it's hopefully now even easier to understand. Given that and what we've said above, if you'd like a do-over on your submission that's totally fine! Just add "UPDATED" at the end of your email subject line when you resubmit, and we'll know to ignore and delete what you sent previously, and only look at your latest submission!