2301 Sound Designer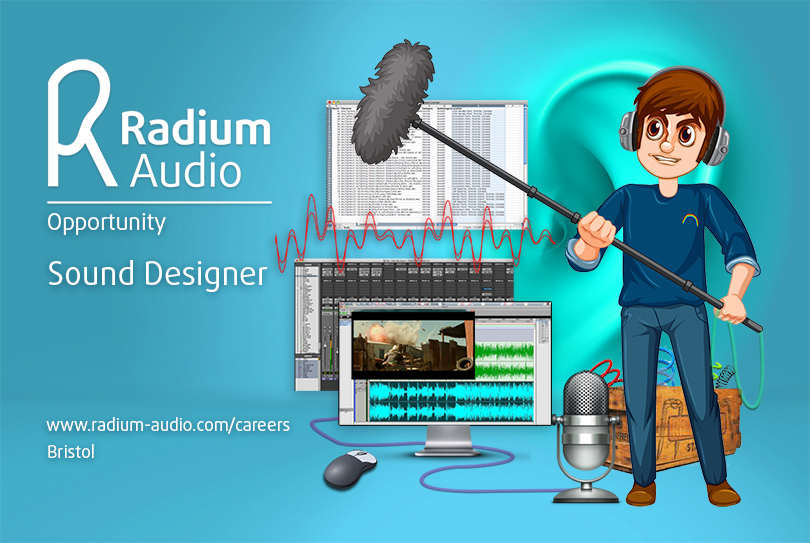 10/03/23
UPDATE
We're almost done reviewing the submissions received and we expect to finish early next week. So we'll accept new applications up until 9am Wednesday 15 March – after that time applications for this role will be closed. Meanwhile, we've started reaching out via email to applicants we'd like to talk to further, so keep an eye on your inboxes next 2-3 days. Thanks!
23/02/23
VERY QUICK UPDATE
We understand some external job sites, for example "Indeed" and a couple of others, are telling people they have applied for the role, when actually they have not. Our postings on external job sites are intended to direct enquiries to this page, to access full info about the role, and enable formal application for it. So if you do want to apply, please read all the info, and follow the formatting instructions below. Thanks!
THE ROLE:
We're looking for 1-2 sound designers to to help out on an indie sci-fi film project, joining us around beginning of March 2023, and we expect will run until end of June. Project needs span technical, creative, and some practical skills. You'll be using your creative sound to picture skills, and some days will have high pressure deadlines. In down time, you'll also be recording, editing, maintaining and outputting high quality and integrity sound sessions for internal library use which is beautifully edited, metatagged, & engineered for use. You may be assisting with our next sound library release, which will be offered for sale both on our own site and with external partners. Additionally, you'll help out where needed in managing & moving studio kit inventory between locations.
What You'll Be Doing:
Creative sound design to picture
Sound tracklay & mix
Sound editing/cleanup
Sound recording sessions
Studio inventory co-ordination & assistance
SFX metadata & library organisation
SFX creation, mix & mastering
Hands-on physical and practical studio logistics
What You'll Ideally Bring:
Logic/Protools ready & fast
Creative flair for sound design & tracklay to picture
Focused and disciplined, long concentration span
Super organised with strong attention to detail
Self motivated, resourceful, effective when working independently
Can be available within commuting distance of Bristol for reasonably prompt start
Can-do approach, willing to "muck in", hands-on practicality
Own reliable transport
Role type:
Commencing asap
Contract
Combination remote working / on location / satellite mini-studio
HOW TO APPLY
Quick Summary:
You'll need to do the following in your email application
Follow the "Preparing Your Submission" instructions below very closely
Send us 2 sound design examples in the style we've asked for below
Answer point by point the questions detailed below
Attach your CV as a pdf
Tell us a little about you.
Sound ok? Read on below for the full detail:



Preparing Your Submission:


1. VERY IMPORTANT: Add the email address "jobs@radium-audio.com" to your address book/contacts list/white list, so you'll be sure to receive the autoresponder telling you we got your message.

2. Create an email addressed to jobs@radium-audio.com.

3. In the subject line of your email, put "2301 Sound Designer", your name, and cellphone number, formatted like this: "2301 Sound Designer Jo Bloggs 07665 125 978"

4. Attach to the email your current CV as a pdf. Be sure this CV includes at minimum the following information.
Your current physical address
DAW competencies and skill levels
Audio qualifications/training, and the dates you achieved these
All volunteering, internships & work history
Clickable Links to your website or showreel locations if you have these
5. To begin your email, make a heading "SOUND DESIGN EXAMPLES".
a) Paste in 2 clickable, streamable links to video examples of your sound design to picture. Choose examples that are stylistically big, bold, cinematic, dramatic, multilayered, stylized and hyper detailed, to really get our attention.

If you don't have examples like this, take some time to create a couple of demos bespoke for this application, minimum length 30 seconds – doesn't need to be much longer than that. For review, in the past we've found Vimeo, Behance, Youtube for ease of streaming have worked well. However open to other options so long as they work seamlessly.

Passworded links are fine, use "radium" for the password. Please double check your links before sending to be sure they are directly clickable from your email, streaming without error, and don't require us to copy/paste into browser to access.

Please make sure you don't have your name or any information obviously identifying you labelling your video after we click to view it. That said, performing names/online aliases which don't give away anything about who you are, are fine. We ask this because we use blind listening panels in initial selection. Video demo links are separated from the covering emails & CVs and presented to the panel anonymously.

b) Underneath each of your 2 links, write us a paragraph about the tools you used to create the sound design. If you used SFX libraries, tells us which ones. If you created some of the SFX yourself, tell us very briefly how you did it, and tools you used.
6. Below your 'SOUND DESIGN EXAMPLES" section with your streamable links and notes, make a new heading, "TECHNICAL" and in brief bulletpoint-ey fashion, answer the following questions.
Pro Tools
What Pro Tools version are you currently using? If you don't use Pro Tools, that's fine, just say so. Rate yourself as "intermediate", "advanced" or "superhero".

Logic
Which version of Logic are you currently using? If you don't use Logic, that's fine, just say so. Rate yourself as "beginner", "intermediate" or "advanced".

Other DAWs
Which other DAWs are you currently using? For each, a) Rate yourself as "beginner", "intermediate" or "advanced" & b) (optional) tell us briefly what you like about each one.

Audio File Editing
List up to 5 tools you use for audio cleanup, repair and editing? Rate yourself on each as "beginner", "intermediate" or "advanced".

Creative Sound Design
List up to 5 of your favourite plugins that you use for creative sound design and rate yourself on each as either "beginner", "intermediate", or "advanced"? Give 1-2 sentence summary of your favourite way to use each of these. If you don't use any plugins that's fine, just say so.

Hardware

a. List up to 5 compressors, EQs or physical outboard machines you've used before, and rate yourself on each as either "beginner", "intermediate" or "advanced". Give a 1-2 sentence summary of what you liked about each of them. If you've not used hardware and only ever worked in the box, that's ok, just say so.

b. Have you worked on a physical console desk before? (SSL, Neve, similar?) If not, that's ok, just say so. If so, specify which model/s, and rate yourself "beginner", "intermediate", or "advanced".

c. Do you use any hardware in your creative? Synths, modular gear, anything like that? If so, tell us what you like to use, and why you like it. If you don't use hardware that's fine, just say so.

7. Below your "TECHNICAL" section, make a new heading "ABOUT ME". Tell us:
Where you saw the ad or how you found out about this position
What you're doing right now
How your experience/skills would bring value to the project, making specific reference to the information we've given about what we're looking for
Do you have own reliable transport?
Do you have practical hands on skills in any of these? :Woodworking, power tools, electronics, building, warehouse experience, logistics, set-building? If so, let us know some detail about that. If not, just say so, that's fine.
Availability date to start
We strongly recommend reading through the FAQ at the bottom of this page, you'll find some useful insights about what we look for in applications.
8. STOP! Go back and double check: have you carefully followed Steps 1 – 7? If not, please now revise your application in line with the formatting and info we've asked for.
9. Got Steps 1 – 7 covered? Great, hit "send", and throw your hat in the ring!
CLOSING DATE FOR APPLICATIONS
We're looking for someone asap. We'll start formally reviewing applications Monday 27 February. Updates to status will be posted at the top of this page, underneath the image. We'll post an update when we stop reviewing applications, and another when we fill the spot/s, so you can check there any time for that information.
WHAT HAPPENS NEXT?
There'll be an ongoing first stage review of all applications received.
Selected applicants will be invited by email to complete a timed downloaded demo project
Successful demos will be invited to proceed further to initial phone interview stage
ANY QUERIES?
Most of your queries will be answered in the FAQ below so please do read through these before reaching out to us direct, thanks. Anything not covered in the FAQ, contact us on jobs@radium-audio.com and we'll do our best to help.
FREQUENTLY ASKED QUESTIONS
It's really well worth taking a few minutes to read through the FAQ below. You'll find some great insights about what we're looking for, common pitfalls to avoid, and how best to grab our attention with your application. The FAQ is split into 4 sections.
Section 1: Who Should Apply
Section 2: Sound Design Examples
Section 3: Application Formatting
Section 4: After You Apply
1. WHO SHOULD APPLY?
Q1.1) Do I need to have paid, professional sound design experience with live project showreel material to apply for this role?
A. Not necessarily – we're looking for ability and right fit for the team. A more experienced and proven person will likely find it easier to hit the ground running. A less experienced person with clear talent, prepared to work in their own time with highly dedicated focus to get up to speed very quickly, can also work out really well. We've had success both ways in the past, so we're openminded about this. However, you will absolutely need to demonstrate your sound design chops in a way that resonates with us to get past first stage review for this role, so you'll need to be sure to send us the right kind of examples in your application. Read Section 3 below for specific information on that.
Q1.2) I'm great at selecting sounds, managing libraries, creative sound editing and tracklay to picture, but I've not actually made my own SFX before. Can I still apply?
A. Yes you can. It would be great if you could learn to contribute to our internal sound libraries, but if you're super strong in the other areas we need this isn't a dealbreaker up front.
Q1.3) What types of skillsets do you really want?
A. We've found everyone brings an individual combination of experience and skills to the team. Our sound creatives tend to be one or a mix of the following:
Creative Sound Designer (creator/manipulator of micro detailed sound, synths, modulars, field & live recordings)
Creative Pro Tools Editor (Pro Tools tracklay/sound design/editing/remix/extension)
Sound Design Programmer (DSP, Kyma, Kontakt, Max MSP, Reaktor, PD)
Sound Recordist (Field and In Studio)
Sound Editor/Librarian (cleanup, metadata, server organisation)
Studio Maintenance & Logistics ( inventory management, studio maintenance & handiwork, studio cabling, acoustics)
Producer/Engineer (Pro Tools/Analogue Console)
Creative Technologist (electronics, instrument build)
Q1.4) I want to apply, but I'm still on a course of study/otherwise occupied for some while yet? Will you hold a position open for me until I'm finished what I'm doing?
A. When we advertise a specific role, it's because we want to find someone to join the team as soon as possible. For full time roles, if you're not available to get started within a month or so (maximum, pref sooner), then it's best to wait and apply at a later time when you don't have existing commitments. For part time or freelance work, get in touch using our Open Submissions procedure here.
Q1.5) I just want to enquire about an internship or a work placement, or shadowing you for a few days. Should I apply?
Use our Open Submissions procedure to get in touch about that here.
Q1.6) I don't live in Bristol and don't want to move there, but I'm still interested. Can I apply?
For this contract we need you to be within daily striking distance of Bristol, and flexible to travel between locations where needed, within a couple of hours travel time from Bristol. We do work with a small handful of freelancers remotely – use our Open Submissions procedure to get in touch about that here.
Q1.7) I live in or near Bristol, but I'm not interested in a contract. I'd like to work with you freelance ad hoc. Can I apply?
We sometimes work with a small handful of freelancers remotely – use our Open Submissions procedure to get in touch about that here.
Q1.8) I'm a sound designer and I already applied via your Open Submissions route. Do I need to make a separate application for this?
A. Yes, please treat this as a completely separate application. When we're hiring for a specific position, those submissions always take priority over reviewing the Open Submissions emails we receive.
Q1.9) How much will I get paid?
A. We're not taking an up front position on this, because we're open to a variety of skillsets, backgrounds, and applicant expectations. You're very welcome to share your thoughts on remuneration in your covering email, whether you want to be specific, or give a general range, either is fine. If you'd rather not do that in your initial application no problem, happy to discuss it later should we move forward with your application.
Q1.10) Do I have to be a UK resident to apply?
A. Yes. Also, you'll need to live within commutable distance of Bristol for this position. Please only apply if you have the ongoing unlimited right to live and work in the UK, you are already living or prepared to very swiftly relocate within daily travel distance of Bristol, and working with us will not breach any conditions of your UK visa.
Q1.11) Are you an equal opportunities employer?
A. Yes. Radium Audio is committed to equal employment opportunities regardless of age, sexual orientation, gender, pregnancy, religion, nationality, ethnic origin, disability, medical history, skin colour, marital status, genetic information or parental status. We base all our employment decisions on merit, job requirements and business needs.
Q1.12) I've applied for a role with you before, but was unsuccessful Can I reapply for this role now?
A. Yes absolutely. We have people on the team who applied with us a few times unsuccessfully before landing a spot. Be sure to always treat each application you make as a separate case, and don't require us to refer to anything you may have sent us previously. Go ahead and get in touch!
2. SOUND DESIGN EXAMPLES
Q2.1) I have a really great CV with fantastic experience and some really big name projects. It's all very self explanatory. Shall I just send you that?
A. It's super important to send examples of your creative work which fit with what we've specifically requested. Previously when we've received CVs without examples, we've reached out to request these, however that's now become quite time consuming for us to manage. Going forward, we won't be reviewing applications which only provide CVs, and no links to creative work. We also reserve the right to skip reviewing applications which don't include examples/demos in the style we asked for.
Q2.2) I have a quite a few sound design to picture examples. How do I pick just 2 to best represent me?
A. Finely detailed, multilayered, slickly mixed, complex sound design to picture and sound effects with dramatic flair, punch, dynamic range and a strong sense of heightened reality – appropriate for our world of film trailers and advertising – get us excited. Beautifully eq'd SFX, comprising a mix of foley, found sound, digital & processed sound layering, which you've created and manipulated yourself, are always super interesting for us. Maybe you're less of a pure SFX creative, but you're a DAW genius who can sound design, tracklay, and can pull disparate music and sound elements together into amazing augmented creative mixes and edits to picture – that's ok too. It's all relevant to this role.
Q2.3) I have examples of my sound design to picture, but they don't really fit the description you've given in Q2.2 above, as being exciting for you. Shall I just send them in anyway?
A. If you're lacking the right kind of examples, you'll improve your chance of success by creating bespoke pieces which are in line with what we're looking for. These don't have to be lengthy, a 30- 45 second duration per video is enough to give us a good feel for where you're at. Sending examples which don't fit what we've specifically asked for makes it unlikely your submissions would be earmarked for potential shortlist. Additionally, we do reserve the right to skip reviewing applications which don't include examples/demos in the specific style we asked for.
Q2.4) I really want to apply with you, but I don't have a showreel yet because I'm just getting started. How am I supposed to give you examples of my work?
A. It's totally ok if you don't have paid professional showreel projects to share. However, in our experience, creatives who do best in our environment tend to work independently in their own time to develop their craft, and they've likely been regularly doing this in addition to any University assignments. If they haven't had paid projects, then they've been privately rescoring and redesigning film trailers, adverts, and other video assets for their own development, albeit not sharing these publicly for copyright reasons. So passworded links to redesigned/resoundtracked videos are fine to submit.
Q2.5) Can I just submit my University portfolio?
A. When reviewing applications, we look for indications that the applicant has been working independently to develop themselves, and not simply done the minimum assignments they needed to do to pass their course, whether recently or some years prior. Additionally, the style and tone of Uni Assignments may not fit with the demo style we've asked for. If you don't have existing commissioned or self-initiated portfolio work which fits with the style we've asked for, we recommend creating demos specifically for this application. Demos only need to be about 30-45 seconds each, that's generally enough to show us what we need to see.
Q2.6) I don't have access to the right kind of sounds to use for this application, or the budget to buy new sound libraries at the moment, and I don't have the know-how/equipment/means to record, create and design extra assets in time to submit for the deadline. What can I do?
A. Email us on jobs@radium-audio.com with email subject header "2301 Sound Source Request (Your Name, Your Mobile No)". Within 24 hours we'll send you download links for sound source licensed for use for this demo purpose. You're free to use the source as is, twist, manipulate, pitch down, pitch up, compress, distress, augment, add in with other sounds, be as creative as you like! There's no advantage or disadvantage to your application for using this source, it's simply a resource that's here to help you if you feel you want/need it.
Q2.7) Can I submit collaborations with others in my streamable links?
A. We prefer that you don't, because it's you as an individual we're potentially looking to work with.
3. APPLICATION FORMAT
Q3.1) Why do I need to add your email address to my contacts/whitelist?
A. To be sure you'll get our autoresponder confirming we've received your email. That way, you don't have to wonder if we got your message, or phone us or email again to find out.
Q3.2) I'd rather not follow the application format you've set out above. I have my own way of doing things, and I'd like to impress you with the creativity of my own application format. Is that ok?
A. We work often with complex written briefs, so we're interested to see how you get on with independently interpreting and following a set of written instructions. A good way to start showing us right away you can do this, is by following the guidance we've set out. Focus your creativity on your sound design to really impress us.
Q3.3) Why do the links have to be clickable and streamable? Can't I just send you a WeTransfer or attach files to the email, or something like that?
A. We used to accept downloadable material, however we've recently decided to change our approach. We receive a very high volume of enquiries and submissions, and it's become too unwieldy for us to manage our server space to accommodate the corresponding data storage load for downloadable submissions. So for initial enquiries, submissions and applications, clickable, streamable links only please, we no longer accept downloads.
Q3.4) What type of streamable links will you accept?

Vimeo, YouTube, Behance, other publicly available video services are fine
Passworded access is ok if you supply us the password, please use "radium"
Dropbox, Google Drive or similar are fine so long as the streaming experience is seamless and easy.
Please ensure each of your links leads to a specific video or track. If it leads to multiple videos or tracks, we'll only review the first 2 on the page
Avoid sending links which can only be viewed by being logged into a specific email account – as applications are reviewed on a team wide basis
We also ask that you refrain from publicly naming/ identifying/ associating your videos online with Radium Audio to avoid any confusion about who has actually created the work
Q3.5) Can't I just give you a link to my website/bandcamp/soundcloud/vimeo/youtube/other account for you to explore? Why does each link have to lead to a single specific video?
A. We receive a very high volume of submissions ongoing, and we have limited time to allocate to reviewing each one. Sending us 2 direct links to videos gives you the opportunity to frame your strongest work so we focus on it right away and use that to form our first impression.
Q3.6) Does my CV attachment format matter? You've asked for a pdf. I'd rather send it as a word/pages/text/something else file?
A. Pdfs only, thanks!
Q3.7) Is it ok if I put the links, answers to questions and other information you've asked for in a completely separate document and attach that to my email along with my CV attachment?
A. Preferably not – that complicates our review process. Your application should only have 1 attachment, being your pdf CV. Please put the links and other information we've asked for straight into the body of your email, thanks!
Q3.8) So I'm going to really exaggerate my experience and skillsets in my CV PDF because that's what everyone does, right?
A. You're right, people often do this and you can frequently get away with it at initial application stage. However, if we progress to demo and phone interview stages with you, the exaggeration becomes quickly apparent, then things get awkward, and everyone's time has been wasted. So be honest. For example, please don't tell us you have "vast experience" with Logic when actually you've only used it a couple of times and you're still feeling your way with it. We don't expect you to be an expert in everything. But it's important to be as accurate as possible in your self assessment.
4. AFTER YOU APPLY
Q4.1) How will I know if you got my email?
A. You'll receive our autoresponder confirming this. If you don't receive it, check your spam, or your bin. Some ISPs will filter this out before it even gets to you. However, that shouldn't happen if you ensure you've added jobs@radium-audio.com to your contacts and/or whitelist.
Q4.2) The stats on my videos say you haven't watched them yet? Are you definitely reviewing my work?
A. Sometimes people tell us that according to the tracking stats their submission hasn't been reviewed by us, or even played at all. However when we go back and check, we find we've definitely accessed their links, played their submission, and made a record of this in our notes. We don't have an explanation for why the tracking stats would say otherwise, sorry.
Q4.3) How will I know if/when you've reviewed my submission? Should I follow up my initial email with another email or phonecall?
A. So long as you've followed our requested application format above, we will definitely review your submission just as soon as we can. We prefer that you don't mail or call to follow up, as these further enquiries do become very timeconsuming for us to deal with on an individual basis. We will definitely reach out to you, if we want to take things further.
Q4.4) Can I get some further information about the "timed, downloaded demo project" you refer to in the job ad above?
A. If we invite you to continue to this stage, we'll then give you further information about this, and you can decide beforehand whether you'd like to proceed.
Q4.5) Can I get some idea of how recruitment for the role is progressing?
A. Keep an eye on this job page, and Facebook. General updates will be shared with everyone as/when appropriate.
Q4.6) Will I hear back from you at all after the initial auto responder, if I'm not successful?
A. Yes, absolutely. We always get back to everyone who applies for a specific advertised role with us even if they've been unsuccessful. This may take some time though, so please be patient.
Q4.7) If I don't hear back from you quickly, should I just assume I've been unsuccessful?
A. No, not necessarily. If you haven't had an email from us confirming you've been unsuccessful, then you're still potentially under consideration. We have several cross check review sessions amongst the team as part of our assessment process. Applicants not initially flagged for progression, are often added to shortlist later in the process if selected out at cross check review, and the team agrees on it. Things can change quite a lot from initial submissions, through phone interviews, demo stages, and finally, in person interviews at the end. The candidates who look super strong in the very beginning, are not necessarily the ones who are offered a spot on the team in the end. We don't rule anything out until the process has reached its full conclusion. So neither should you!
Q4.8) Can I get some feedback about my work?
A. We receive frequent requests for this. In an ideal world we'd love to be able to feed back on all submissions. However, due to volume received and time constraints that isn't possible. So to be fair to everyone, we will only undertake that we will enter into individual discussion about creative work with applicants who proceed to initial phone interview.
Q4.9) Where would I be based?
A. This is going to be a combination of remote work, and attendance at a small satellite studio in the Bristol area. May also involve some driving to different locations, within 1-2 hours of Bristol.
Q4.10) So I'm applying for a contract/temp role. What are the chances of it becoming a longer term or permanent gig?
A. We don't make any up front promises about this. We're advertising right now because we have a specific project happening which will stretch our existing capacity too far if we don't get extra help. Sometimes in the past, a person we brought in as an intern or on freelance contract stayed and evolved with the company for a longer duration. Our most recent audio freelancer we brought in has ended up staying for 6 years. Other times, a contract or temp position doesn't continue after the initially envisaged time. It all depends on our specific project/creative focus, team needs, and how those evolve over time.
Q4.11) How long should I keep my streamable links live after you've filled the role?
A. It's not inconceivable that we might come back to your application at a later date, even if you are unsuccessful this time. That becomes much easier if your links are still accessible. However we understand if you prefer to take these offline.