1808 Sonic Workshops Assistant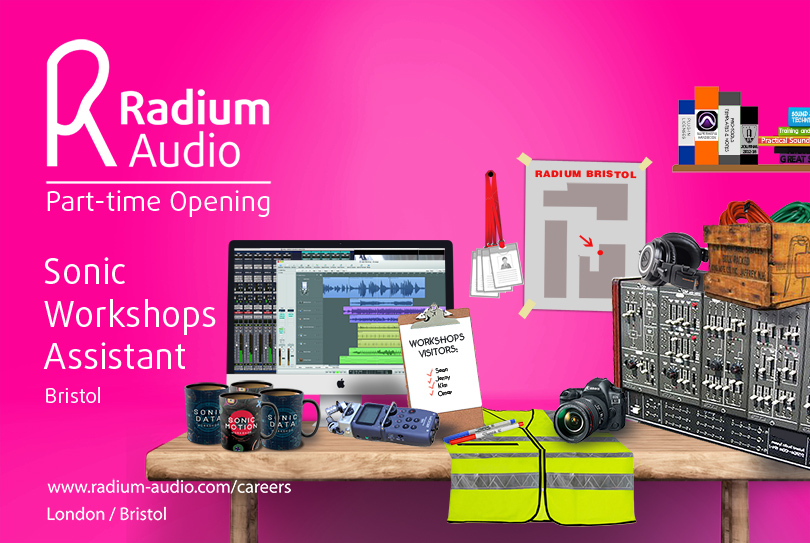 Update 15/09/18
Again, thanks to everyone who has applied for this. Applications have now closed. Keep an eye on Facebook or check back on this page for any updates!
Update 11/09/18
A big thankyou to everyone who sent in their applications for this so far! We're starting to review and shortlist from today onwards. We'll continue to accept new applications up until 10am Sat 15th September. After that submissions are closed. So if you're planning to apply but haven't yet, do get your application in to us by that time.
The Role
We're looking for a sonic enthusiast with an interest in sound design to help out in our Radium Sonic Workshops, initially on a part time basis. For the right person, this could work well as a part time job option alongside university studies, formal training course, freelancing, or other part time work.
First and very importantly, to get the rundown on what you'll be helping us with, take a look at our new Radium Sonic Workshops short courses. Sound interesting? Then read on below …
Here's What You'll Be Doing:
Assisting our Sonic Workshops team to demonstrate sound design techniques and practices to visitors
Welcoming visitors to our studio
Logic/Pro Tools troubleshooting
Practical, technical support around the studio (cabling, moving things around, computer setup, some troubleshooting)
Handing out visitor passes
Health and Safety briefings (we can train you for this)
Orientation Tours
Team Kitchen / Refreshments
Answering visitor queries
Taking promo pictures (we can train you if you haven't done this before)

About You – The Essentials:
Outgoing, cheerful, positive personality, team player
Self motivated problem solver. If you see something that needs doing, or a problem that needs solving, you tend to get on and do it, not leave it for someone else
Organized, commonsense, practical hands on person.
Strong interest in Sound Design
Intermediate level Logic / Pro Tools. See here for definitions.
Confident to speak in front of, interact with and guide small groups of people.
Super reliable. If you make a commitment, we know we can count on you.
Living within commutable distance to Radium Bristol

Bonus Points
Strong sonic ear – ability to recognise really great sound design work/talent when you hear it
First Aid experience/certification
Health and Safety training/experience
Fire Warden experience/certification
Teaching, tutoring, group leadership or coaching experience

Hours of Work:
Commencing late September/early October on a part time, casual basis for now. We think this will suit someone who is already studying or working part time elsewhere, but has regular days in the week when they don't have other commitments. For example, maybe you're on a course which has a work experience or internship component which would fit in with what we're doing. Possibly you're at University, but you don't have lectures or tutorials on a Monday, so you're free that day, or some other day, every week. Or you're doing a distance learning course, or freelancing in some way, so you have flexibility in your hours, and you could commit to availability on 1-2 specific weekdays. Right now we're mainly looking for help Monday, Tuesday and Wednesday, with the occasional Friday as well. We're open to having a roster of 1-3 people who can collectively cover the days we need.

How to Apply:
Address an email to jobs@radium-audio.com with the subject line formatted like this 1808 WORKSHOPS ASSISTANT-[Your Name]-[Your Mobile No]


Attach your current CV in pdf format (no other file formats accepted, and please don't put your CV in the body of the email, thanks!)


Record a very short video of you, no more than 30 seconds long, briefly introducing yourself and giving one main reason why you'd like to help out in the Sonic Workshops. Paste a streaming link to it in your email. Nothing fancy, record it on your cellphone if you like. (Please don't attach the file, or require us to download it. Streaming link only. Passworded private link is ok, please use "sonic" as the password)


Paste in a streaming link to your strongest example of creative sound to picture.


Let us know the situation with your schedule, and what days in the week you'd be available to help. Also give us an idea of both hourly and daily remuneration rate which would work for you.


With reference to our new Sonic Workshops short courses and the bullet points we mentioned above, tell us in the body of your email how you're really well suited for this opening. You're also welcome to go into more detail about why it appeals to you, if there wasn't enough video time for you to cover that in full.



Application Cutoff
We'll be closing off applications when we have the right person/people on board for this, and we'll post our usual status update/s at the top of this page.


OUR CREDITS
We've worked on a huge range of projects throughout our career. Our body of work and awards speaks for itself. Check out our recent "Sicario 2: Day of the Soldado" film trailer above. Go HERE to see a selection of our Showreels. Following are some other at-a-glance credits
Film & Game Trailers
A Quiet Place | Red Sparrow | Battlefield 5 | The Darkest Minds | Ant Man & The Wasp | Jurassic World 2:Fallen Kingdom | Bladerunner 2049 | Overlord | Operation Finale | Black Panther | Avengers 3:Infinity War | Bohemian Rhapsody | The Dark Tower | The Foreigner | Eighth Grade | Maze Runner 3:The Death Cure | The Commuter | Insidious 4:The Last Key | Murder on the Orient Express | Skyscraper | Geostorm | Bright | Valerian & the City of 1000 Planets | The Mummy | Atomic Blonde | Alien Covenant | Farpoint VR | Life | Ghost in the Shell | Passengers | Kingsglaive:Final Fantasy XV | Rainbow Six Siege | Free State of Jones | Midnight Special | Warcraft:The Beginning | Eye in the Sky | Jurassic World | The Walk | Everest and more ……
Broadcast & TV
Game of Thrones | Shannara Chronicles | The Leftovers | Legion | Luke Cage | 12 Monkeys | Colony | The Expanse | Penny Dreadful | Jekyll & Hyde | The Walking Dead | Sky Sports News Branding & Idents | Sky Sports Channel Branding & Idents | Sky Arts Channel Brand Package | BT Sport Channel Brand Package | Nat Geo Network Idents | Science Channel Promo Spots | BBC Winter Olympics Idents | Sochi Olympics Broadcast Ident Package | BBC Worldwide Channel Idents Package and more …
Brand Advertising, Content & Experiential
Apple | Google | SonyPlaystation | Xbox | Bentley | Mercedes | Ferrari | BMW | Dell | EE | Samsung | Intel | Panasonic | Standard Life | British Gas | BP London Olympics | Shell | Linden Labs Blocksworld | Paul Smith | Hasselblad | Nike | Dr Martens | Burberry and more …