About Us
EMMY AWARD WINNING music and sound design creative team RADIUM are sought after for their ability to conceptualise, create and capture unique sound worlds. Radium's approach of creating sonic universes from found sound and purpose built instruments melded with digital technology has contributed to an impressive decade long industry track record, multiple awards and a long list of film & game trailer, broadcast, and advertising credits across top creative agencies and global game studios, acclaimed post production facilities, major UK & USA broadcasters and products from the factories of the giants of industry. More recently Radium can be heard in some of the most high profile film and game trailers globally for major studios including Paramount Pictures, Sony Pictures, Universal Pictures, Lionsgate Films, Warner Bros, Disney, 20th Century Fox & EA Games.


HOW WE WORK
SELECTED TRAILERS
SELECTED CREDITS
Fast X | Dune | The Matrix:Resurrections | Elvis | Fantastic Beasts 3 | Creed 3 | Oppenheimer | Don't Worry Darling | Scream 6 | Super Mario Bros | Willow | Rings of Power | Samaritan | Knock at the Cabin | Prey | Hellraiser | Andor | Interview with the Vampire | Beast | The Black Phone | Smile | Secret Headquarters | Death on the Nile | Dungeons & Dragons | Thirteen Lives | Jurassic World:Dominion | Ambulance | Umma | No Exit | Uncharted | Sonic Hedgehog 2 | Nope | Men | Encanto | King Richard | The Eternals | Venom 2 | Everything Everywhere All at Once | Those Who Wish Me Dead | Shang Chi & the Legend of the 10 Rings | Invasion | The Conjuring 3 | Moonfall | Reminiscence | In the Heights | Old | Spirit Untamed | Infinite | Halloween Kills | Raya & the Last Dragon | Space Jam | Wrath of Man | Morbius | Voyagers | Suicide Squad | The Craft | Nobody | Let Him Go | Tenet | Artemis Fowl | Greyhound | Sonic the Hedgehog | The Hunt | Greenland | The Grudge | Spiral | Fast & Furious 9 | Dolittle | Lovebirds | Underwater | A Quiet Place 2 | Black Widow | Downton Abbey | Onward | Bloodshot | The Turning | The Invisible Man | Joker | Antlers | The Mandalorian | The Goldfinch | It Chapter 2 | Zombieland – Double Tap | Midway | Waves | Everybody's Everything | Countdown | The Two Popes | Men in Black: International | Hobbs & Shaw | Annabelle Comes Home | Ad Astra | Brightburn | Midway | The Intruder | Gears of War | Terminator Dark Fate | The Curse of La Llorona | Avengers 4: Endgame | 21 Bridges | Captain Marvel | Anna | Pet Sematary | Us | Domino | Her Smell | Gloria Bell | Holmes & Watson | Happy Death Day 2 | The Kid Who Would Be King | Alita: Battle Angel | Our Planet | Goosebumps 2 | Mary Poppins | Artemis Fowl | Downton Abbey | A Star Is Born | Slender Man | The Romanoffs | Our Planet | Venom | First Man | Ant Man & the Wasp | Battlefield 5 | Girl in the Spider's Web| The Darkest Minds | Sicario 2:Soldado | Jurassic World 2:Fallen Kingdom | Hold the Dark | A Quiet Place | Red Sparrow | Bladerunner 2049 | Overlord | Operation Finale | Black Panther | Avengers 3: Infinity War | Bohemian Rhapsody | The Dark Tower | The Foreigner | Luke Cage | Maze Runner 3:The Death Cure | The Commuter | Insidious 4:The Last Key | Murder on the Orient Express | Skyscraper | Game of Thrones | Kin | Strangers 2: Prey at Night | Good Time | Geostorm | It Comes At Night | 47 Metres Below | 8th Grade | Legion | Bright | Farpoint VR | 12 Monkeys | Valerian & the City of 1000 Planets | Dead Alliance | The Mummy | The Leftovers | Atomic Blonde | Alien Covenant | Life | Ghost in the Shell | The Walking Dead | Passengers | Rainbow Six Siege | Kingsglaive:Final Fantasy XV | Free State of Jones | The Expanse | Midnight Special | Elvis & Nixon | Shannara Chronicles | Warcraft:The Beginning | Eye in the Sky | Jurassic World | The Walk | Everest and more…
RADIUM'S LEGACY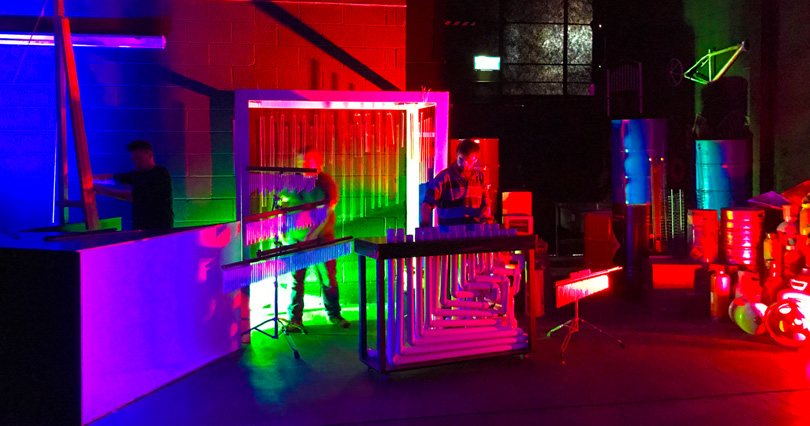 Founded by Andrew Diey, we are an Emmy Award Winning music and sound team. Our craft is to invent and create sonic worlds. Storytelling takes many different forms, and we believe every form of narrative has a sonic essence waiting to be discovered and expressed. Creative music and sound is all about unearthing and expressing that essence to open a door into the world where the story lives, drawing us all inside so we connect with the very heart of the experience.
WHERE YOU HEAR US
• Feature Film Theatrical Trailers
• Branded Content & Brand Idents
• Sonic Software & Technology Products
• Film & TV Productions

• TV Titles, Idents & Promo Spots
• Console, Virtual Reality & Mobile Gaming
• Product Advertising Campaigns
• Retail, Show Room, & Consumer Products

WHAT WE DO
• Superpowered Hyper Real Cinematic Sound Design
• Microscopic Intricate Narrative Sound Design
• Indepth Sonic Libraries/Toolkits Bespoke to Project
• Sound Design & Music Post Production

• Epic Hybrid Orchestral Scores
• Contemporary Music Tracks & Scores
• Sonic Technology/Tools Design & Build
• User Interface Sonic Concept & Design

Andrew Diey, Radium's Founder and Creative Director, says:
"How to describe exactly what we do is challenging as each piece of work is so different. The digital age has facilitated a whole new era of reduced effort and commitment to the creative aspect in media projects, because new and clever tools now often make this possible . In fast paced production environments speedy creation of media assets is an invaluable tool and we ourselves happily make use of these same techniques where it's right for the project. However, we're highly driven to want to create originality and I find that the scarcity of the authentic in the digital age and increasingly common use of digital presets as the sole source material can lead to a feeling of sonic sameness across the creative sector at any given time. We're inspired by inventing and creating new sound worlds, and we like to bring these worlds to the projects we work on, to infuse them with some fresh material and an individual sound.
Digital production is great, but we see it as only one part of our toolbox. We're often working backwards towards flint, bone and stone in our approach, yet at other times we're surfing laserbeams to create new sounds. There is no one singularity, only a series of creative points that we join together. Where Radium's essence lives is that we are one of the most inventive music and sound teams, and it's this originality and willingness to experiment that people know and come to us for. We are very much craftspeople at work with our hands and our hearts. Unique and lateral thinking in our creative process is a very important part of how we approach our projects for clients, for our own explorations, and for our art, craft and passion."
Sometimes we're asked to collaborate on large scale projects where we imagine bespoke sound and music right from initial concept stages. Other times we're working on smaller productions at short notice needing fast turnaround. We have a massive library of inhouse organically created and designed sounds, collection of conventional and purpose-built acoustic instruments, inventory of industry leading microphones and sound recording kit, and full electronic production suite to draw upon.
Radiumphonic Lab
Radiumphonic Lab is the engine room behind Radium Audio, where we construct our own musical instruments and soundmaking devices to make musical tones and sounds which can't be created from conventional and electronic instruments or standard "off the shelf" sound libraries. Creating music from instruments we've designed and built, as well as "found sound" from objects we have around us gives our work a richer, unique and more authentic feel.
Whilst we're recognised as multi-awarded composers, producers, and sound designers, our collective background in the fields of electro-acoustics, music and sound psychology, sonic engineering and programming, and interactive sound environments has also led to some boundary pushing commissions and prototypes, expressing our sonic creativity through scientific and technological paths which we've developed bespoke to project. Our commitment to developing an environment which encourages our whole team to try new creative avenues and approaches enables us to bring true individuality and flair to the sound and music we make for our projects.
Want to find out more ?