1901 Abstract Digital Artworker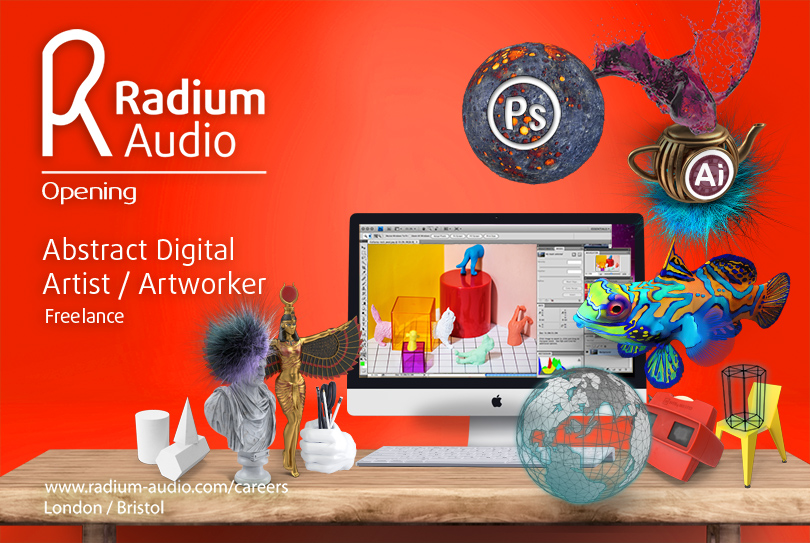 29/05/19 UPDATE
Thanks again to everyone who has reached out. We have finalised the current shortlist and reached out to everyone we would like to speak further with. We will still accept and review submissions as we have a rotating roster of partners we work with, so always open to new talent. However, we're no longer actively advertising this opening.
02/04/19 UPDATE
Many thanks to everyone who got in touch about this! We've had 278 submissions and it is taking us some time to go through everything. If we'd like to have a further conversation with you, we'll definitely be in touch once we've caught up on all the applications.
We're looking for an abstract digital artist/artworker to work with our team on freelance basis. We're a tight, creatively ambitious team, and we're pushing forward with a real commitment to visual and sonic exploration. We'd love to meet a likeminded visual creative to help us express our ideas and vision. We have some existing visual guides and templates already in place for ongoing projects, and would like to develop our comms / products visual presence much further on new concepts as well. We love exploring mixed media, photography, stills, VFX, motion. 3d, 360, AR, practical effects, and more, so expect to be involved in some new ideas, and investigate new tools and techniques.
WHAT YOU'LL BE DOING
Creating images and artwork for digital, social, print media & merchandise
Montage, Collage, Creative Scene Building
Retouching, Colour Grading, Illustration Finessing
Image Manipulation for Surreal/Abstract/Experimental Artwork
Researching and applying new visual techniques and methods
Amend final designs to client comments and gain full approval
SKILLS & APPROACH
Strong eye and creative flair for visual design and presentation.
Positive personality, good ability to interact, communicate and present ideas
Proficient with the Adobe Creative Suite
Keen to explore new tools and techniques
Love of Colour/Detail/Perspective/Depth/Realism in the Unreal
Conceptual thinker
Precise and meticulous attention to fine detail
Time conscious, working quickly and efficiently
BONUS POINTS
Freehand illustration
3D Animation
Typography/Layout
INSPIRATION/REFERENCE
Aside from doing great work which is a given, we hope you'll be the sort of partner who responds promptly to calls, emails and messages, is reliable in keeping to your commitments, and brings a can-do attitude to exploring new ideas. In getting involved with us you'll be working with one of the most exploratory forward thinking creative teams in sound today, and we really hope you'll connect with what we do, and enjoy the projects we work on together.
We imagine we'd begin with some ad hoc freelance projects. All going well, we're open to an ongoing retainer arrangement if we find the right person to work with.
HOW TO APPLY

1. Ensure you have the email address "jobs@radium-audio.com" in your address book, so you get our autoresponder letting you know we got your email. If you don't receive it, also check your spam, trash, or bin in case it ended up there.

2. Address an email to "jobs@radium-audio.com" with subject line formatted like this:
"1901 Abstract Digital Artworker – [Your Name]-[Your Mobile No]"

3. List in bullet point style your visual design / skillsets/tools starting with your best and working downwards. For each one, please state whether you consider yourself to be "superhero", "advanced", "intermediate" or "beginner". A short explanatory paragraph with each is fine if you want to include that too.

4. Underneath your skills bulletpoints, write an introductory message telling us where you saw this opening, and telling us about your existing involvement with design/projects right now.

5. Then tell us how you'd like to contribute visually to what we do, and elaborate a bit more on how you see your involvement with us.

6. Next, include weblinks to any of your portfolio material which reflects what we've shared in the "Inspiration/Reference" Pinterest gallery above. Really appreciate if you could be sure to share work in this style. Feel free to create something specifically for this application if you don't have anything pre-existing which is suitable, but you want to show that you can nail this creative space.

7. Give us an idea of how you prefer to be remunerated. If you operate a rate card please share that info with us, and give us a time/costing example from one of your portfolio projects. Also if you price by negotiation or on total project basis, give us a couple of costing examples from the work you've shared with us. (We usually set budgets on a total project basis.)

8. Attach your current CV as a pdf formatted attachment. Be sure it includes your current physical address.

9. Read through "Other Stuff" below before hitting "Send". Thanks!
OTHER STUFF

If you've already applied for our Graphic Designer opening however feel this would suit you as well, please make a new and separate application per the guidelines above. Please be honest and realistic with your day rate/project costing expectation, as we will take you at your word rather than making an assumption that we'd negotiate later on what you've said. Really appreciate if you could spare our server space and avoid sending huge downloadable attachments and files, go with clickable/streamable links to assets viewed/played from cloud or similar. Website links, Youtube, Vimeo, Behance, Pinterest, all fine. Please don't send anything which requires us to log in to view. Passworded links are fine, please use "radium" as the password. If you've added "jobs@radium-audio.com" to your address book, you should receive our autoresponder confirming we got your message. Check your spam, junk, bin, and trash as well just in case. If we'd like to follow up further, we'll get in touch with you.

Any questions, email jobs@radium-audio.com. Thanks!
NB:Strictly no agencies, recruiters or representatives, thanks!