2020 Graphic Designer Freelance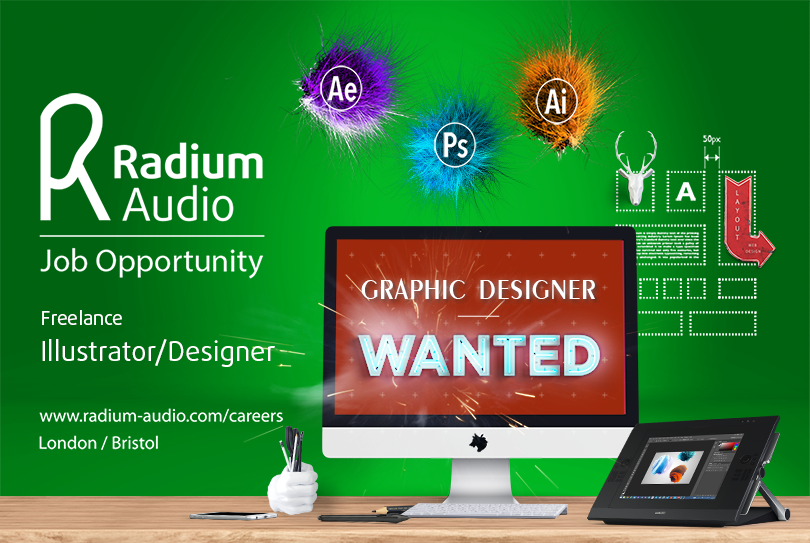 WHAT WE'RE LOOKING FOR
Creative Typography
Creative Exploration
Grid Layouts or Magazine Layout
Grid Layouts or Digital Layout
Brand Design & Exploration
Packaging Design & Exploration
Work with Manufacturer Templates to design packaging
Poster Layout & Creative finals
Typography Hierarchy – explorations
Working with Vectors / Ae / Psd / Indesign / Grids
EXTRA BONUS SKILLS
Photography Skills – Grading etc
Experimental Design Creativity
Ability to organise and keep a tight design schedule
Ability to adapt to new tools / techniquesGrid Layouts or Digital Layout
AE – Motion Grahics
3D
Radium is an award winning music and sound team. We work with designers to produce our own promotional material, including posters, flyers, films, t-shirts, and other unique items incorporating cutting edge physical materials, design and manufacturing techniques.
We're seeking talented creatives in several visual design areas to expand our existing freelance/part time design team. We have regular work on offer once a relationship is established, and it's fine to work from home as long as you can join us online for chats, use online tools, and deliver great work.
You will be involved in a wide variety of design projects so if you're a strong generalist that's great. However, if you are particularly strong in one of the areas of design we need that's fine too, we're openminded on that, and can allocate project work wherever design strengths sit. If you have experience working in print or products that's going to be handy, if not, a keen eye for detail would be an excellent start. A curiosity and willingness to pick up new tools, techniques and materials will also be a big help.
Right now, we're most keen to connect with a graphic designer who is particularly strong in layout with a fantastic sense of grid and form.
We're also seeking help on the typography front, and always interested in mixed material/format collage graphic design illustrators too.
Our team are very Adobe based, so would be a benefit if you were as well. We also use online tools for file sharing so you'll need to have space on your machine as well as the power to handle a multilayered After Effects project.
HOW TO APPLY
See below some Pinterest boards which speak to different aspects of what we do.

If you're interested in working with us, then share with us examples of your work which speak strongly to the design orientations and techniques we're sharing here . If you don't have anything like this but you're sure you can execute similar work, then craft up some specific demo material to share!
For your portfolio work, please be sure to send online viewable links rather than attachments or downloadables, and only share work which aligns with the Pinterest boards below.
It's ok to attach a pdf format CV if you wish to do so – max filesize 2MB.
Please format your email subject heading like this:

"2020 Graphic Designer-[YOUR NAME]-[YOUR CELLPHONE NO]
Applications to jobs@radium-audio.com

Thanks!
Pinterest Boards which give a flavour of what we are seeking – if you feel you fit one more than others that's ok – we can work with specialists as well as generalists.
These Pinterest boards are inspiration for what we like, what we do, and examples of good solid design. We're very used to seeing early sketches and ideas first drafts, development and evolution, right through to proof and onto final print. If you're a less experienced designer we can guide you through these steps at first. If you're a more experienced head, we'd expect you'll grasp the creative and technical demands almost straight away.