1605 Full Time Graphic Designer Freelance Inhouse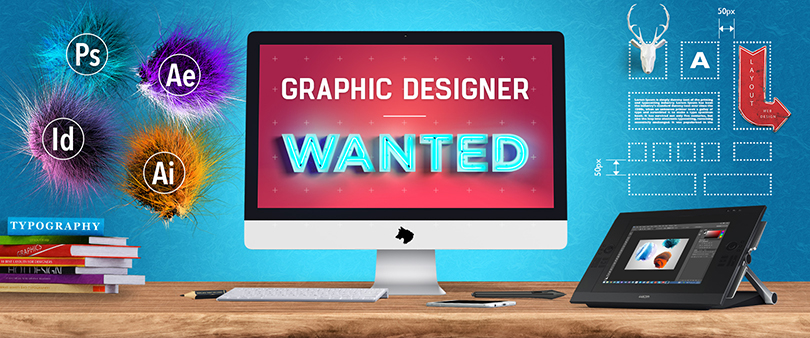 ANDREW SAYS:
I'm sitting here, listening to some new experimental music we've just created and thinking, wouldn't it be amazing to work with a graphic designer who'd be up for some heavy exploration right alongside us …
We already have a freelance illustrator and 3D artist on board to make amazing beautiful images. Now I'd really like to work closely with someone full time based out of our Bristol studio, who has a real creative flair for colour, font selection and layout in digital & print design, and a very keen eye for detail. In addition to that, this person would have an evolving and personal interest in all things visual, and be happy to lend a hand with video editing, and picking up a camera to help us film from time to time.
We're a small creative team heavily committed to pushing forward our sonic narrative in music and sound. We explore and share our narrative in other ways too, making our own films, websites, and promo merchandise. This isn't an agency environment where designers have continual fast paced deadlines working for multiple clients on a variety of branding and advertising assets for different products. Essentially the brand, product, and assets are all Radium and associated channels, and the job at hand is all about expressing our narrative with a similar level of creativity, inventiveness, and ingenuity, to the way we explore the sonic side of the audio-visual universe.
This time, I decided to focus on sharing some Pinterest boards for a slightly different approach, to give an insight into some of the imagery and feel we're into right now. Check these out below, see if they resonate …
Beautiful minimalism, carefully considered, perfectly crafted, seemingly effortless style and class, instantly memorable. Less can sometimes be much, much more.
Lush product packaging design just makes us want to drink it in with our eyes, hold it in our hands, turn it about every which way … and own it in our personal collections.
Epic styleframes draw us into a multiverse of creative possibilities … stories as yet untold, pictureworlds birthed through a vortex of visions for alternate realities.
Exploring all aspects of visual design with clear and open mind … waging asymmetrical war on the rules of reality … we create a visual universe all our own.
Sound interesting so far? Then read on below …

The Opportunity:
We're an Emmy Award winning music and sound company looking for a freelance inhouse Graphic Designer to work with us full time at our Bristol studio initially on a six month assignment, with strong possibility to evolve into permanent role. You'll be a highly capable and flexible team player, willing to roll-up sleeves and immerse in everything we're doing.
This is a perfect opportunity for a talented, hardworking, multiskilled visual creative to get heavily involved in the visual branding, identity, and storytelling of our small, dynamic company. You'll working amongst a team of commercially savvy, highly driven audio creatives, and your day will involve:
Working closely with Creative Director to bring to life our overall storytelling strategy
Proactively and swiftly creating solutions to visual design tasks and problems we bring you
Understanding and interpreting our awkwardly expressed ideas into moodboards, mockups, layouts, and fully realised visual assets, working with both still and moving image
Creating original conceptual artwork & styleframing for our multimedia and multichannel assets, both print and digital media
Designing web content, print/packaging content, t-shirts, vinyl & CD record sleeves, film posters, title cards
Organising and managing our visual asset library
Helping film internal and remote location recording sessions
Creating and editing videos and photo libraries for website and other channels
Managing workflow with other external & part time visual freelancers as required
Essential Skills
Photoshop
Illustrator
Premier (Video Editing)
After Effects
Knowledge of other Adobe Creative Suite applications
Designing/Formatting visual assets for digital & print applications
Eye for colour, layout, and font/typography selection
Creative styleframing
Creative photo collage
Useful Extras
Canon 5D still and moving photography
GoPro ready and able
Basic understanding of front end web coding (HTML5/CSS3/Javascript)
Cinema 4D
X-Particles
Turbulence FD
Red Giant (colour grading)

How to apply:
First, read though this job advert, and review the Pinterest boards and some prior recruitment films. Then read carefully the FAQs below.
Email jobs@radium-audio.com with the subject line format "1605 Graphic Designer (YOUR FULL NAME AND CELLPHONE NO)
Tell us where you saw this opportunity, and/or how you found out about it.
Tell us in the email what appeals to you about this role, what you'd bring to it, why you'd be really great at it, and approximate salary / equivalent you'd be looking for.
Share in the email weblinks for up to 5 examples of website graphic design, if you have those.
If you have a motiongraphics skillset/examples (nb: this is not essential), in the email share up to 5 weblinks to the work in question.
Share any relevant work or parts of your graphic design portfolio with us as pdf attachments. Make it really relevant to what we've shared about the role, and easy for us to review. Aim to impress.
Create a single page pdf moodboard presentation on a visual theme of your choice, something you really like, and share with us.
Frequently Asked Questions
Section 1. Should I apply for this role?
Q. What level of experience do I need to apply?
A. We're open to all levels of experience with this role. You might be a highly talented graduate, expert in all the skills we've listed who can come right in and hit the ground running. Maybe you have a few internships under your belt, or you already have experience in other inhouse or creative agency roles. Perhaps you've been working freelance from home and you'd like to switch to an inhouse role. Perhaps you'd like to move from working for many different clients to essentially telling many strands of a single story through still and moving image, using both digital and print assets. We're open to all backgrounds.
Q. You say this is a full time inhouse position in Bristol? I don't really want to commute into Bristol every day. Are you open to a remote working arrangement?
A. Yes, we'd be prepared to discuss that. We think you'd need to be within reasonable travelling distance as if you're helping out with filming sometimes you'll need to be in studio/on location for that. But otherwise working from home is potentially ok, we're open to considering it.
Q. I'm really strong with my design skills but I've not done much in the way of photography and video editing. Can I still apply?
A. Yes, go ahead. As long as you're willing to get stuck in and learn quickly, you can pick up the photography and develop further your video editing skills on the job, we have others on the team who'll show you the ropes.
Q. I'm really great behind a camera, but my design skills are weaker. Can I still apply?
A. The design skills are critical and not negotiable, we need you to hit the ground running on that. On the photography/video editing we're open to a learning curve. So sorry, if that's the case then this isn't the role for you.
Q. I'm up on all the essential skills, but I don't have any of the useful extras. Can I still apply?
A. Yes definitely! You can learn to use the cameras on the job, we get that Cinema 4D, Turbulence & X-Particles are specialist tools, and we already have 2 web developers on the team who will implement your designs & assets in our web presences, you don't need to be a coder, just to know enough to correctly format your digital assets for our developers to use. If your design skillset is demonstrably very strong, it won't disadvantage you not to have those extras boxes ticked up front.
Q. You have an amazing client list! Will I be creating visual assets for them?
A. Just to be super-clear, no you won't. The clients you see on our website come to us for audio creative, not visual creative. You will be working on the visual identity and storytelling of Radium and our associated channels, not those of our audio clients.
Q. Will I need to supply my own equipment?
A. No. There's a brand new Mac Pro and full fat Adobe Creative Suite with your name on it. Anything else you need, we'll supply that too.

Q. What level of remuneration are you offering?
A. Salary/equivalent will be offered on individual basis at a level in line with ability, experience, and value brought to the team at time of hire. We've asked you to let us know what level of pay you're looking for as part of your application. Please don't view this as an opportunity to aim high and negotiate down afterwards, because part of our decisionmaking process will be based around whether we can afford you, and we're going to take you at your word and presume you won't take any less than what you've set out should we offer you the position. Just to be clear – we're not just looking to bring in the lowest bidder. We aim to pay the going market rate for similar positions/ability/experience levels so that you feel fairly rewarded for your work and involvement with us.
Q. You say this is a six month fixed term position, but then you also say that the term could be extended and could even become permanent? Why can't you be more definite about what you're offering?
A. We've been so busy as an audio team for a while now, that we've not had enough time to fully address the visual creative requirements of the business, so we've got loads of work stacked up on that side of things we've not been able to get to. We think it'll take a good 6 months to get that up to date. After that time it could be that you've become such an integral part of the team and your involvement in the various aspects of our business runs so deep that we'll ask you to stay on permanently, but we can't say for sure things will go that way up front. It's happened a few times before with temporary/fixed term team members – for example, one of our former interns is now 4 years later running the sound recording side of things inhouse, and the illustrator we brought on previously for a 3 month inhouse contract was with us a whole year before going external freelance again, so we're not ruling anything out.
Q. I collaborate with one or more creative partners. Can we apply collectively?
A. Unfortunately that won't work. Right now we have a full time position for 1 person, who will need to carry the entire skillset for the job themselves.
Q. I don't live near your studio right now, but I'd be willing to relocate if I got the job. Can I still apply?
A. Yes you can, most of the application process can be completed remotely. However if you make it through to the final shortlist, you will need to travel at your own expense to attend the studio in person for final interview & demo stages, and to relocate promptly if offered the position.
Q. I don't live in the UK, but I'm an EU citizen and I have the right to move to the UK and take employment without any restrictions. Can I still apply? A. Yes you can. Most of the application process can be completed remotely. However if you make it through to the final shortlist, you will need to travel at your own expense to attend the studio in person for final interview & demo stages, and to relocate promptly if offered the position.
Q. I don't live in the UK, and I also live outside the EU. Can I still apply?
A. You will need to demonstrate to us with your initial application that you have the unrestricted right already in place to live and work in the UK, as we are not able to assist with immigration issues and work permit applications. Most of the application process can be completed remotely. However if you make it through to the final shortlist, you will need to travel at your own expense to attend the studio in person for final interview & demo stages, and to relocate promptly if offered the position.
Q. I'm not looking for a full time inhouse position, but I'd be interested in freelancing for you as and when. Can I still apply?
A. This is not an external freelance position, we are definitely looking for someone to work with us inhouse full time. We will advertise for freelancers when we have a specific requirement for that.
Q. I'm not right for this role, but could I apply for an internship or some work experience, or just spend some time in studio observing?
A. We're often working on projects for clients which are highly confidential, so while we don't want to be anti-social, mostly we try to avoid having observers in studio who are not directly working on projects in progress. Sometimes we do have opportunities for internships or work experience, and we ALWAYS advertise these as it has happened in the past that the occasional intern has come in, blown us away with energy, commitment, talent and usefulness, and progressed eventually to a permanent position on the team. So we want to throw the net as wide as we can. You can sign up on our Radium Careers page to be notified of any opportunities that come up.
Q. I'm not really right for this role, but can I just send you my work speculatively? Do you have other opportunities happening soon and will you remember me when they come up?
A. Given that we're expanding, we will definitely have further opportunities to come soon. We wouldn't say "no, don't send us your work" because we take it as a compliment that you'd choose to share it with us. But realistically, we're flat out most of the time and while we review speculative applications occasionally, given the volume we receive it's difficult to make an ongoing commitment to review all of them. Also, if you're sending us a general email about your work, you're essentially shooting blind. Whereas if you're responding to a specific callout we've made, you'll be able to shape what you send us so that it fits with what we're looking for at that time, and we do commit to reviewing EVERY submission when it's for a role we've advertised. You're more likely to grab our attention if you submit something we've specifically asked for, in the way that we've asked for it, at the time we're looking for it.
Section 2 . Ok I've decided I'm going to apply, and I'm preparing my submission …
Q. I have a large portfolio and I'm trying to decide which parts of it to submit. Can you give me some guidance on styles/types of design you're looking for?
A. Check out the Pinterest boards and comments we shared as part of the job ad – that's a great place to start. Think about what might be relevant to us and focus on that.
Q. How should I submit my portfolio?
A. Digitally to start with. We can look at any physical examples you'd like to show us if you reach interview stage. How you handle the digital submission is totally up to you. It's an opportunity to show us how great you are at managing pitch opportunities, because inhouse you'd be working on those with us as well.
Q. I have some material to share but it's not totally all my work although I contributed. Is it ok to submit?
A. Ideally all work submitted should be completely your own, not a collaboration. If you are submitting a piece you've jointly worked on with someone else, please make it clear to us what your contribution was.
Q. Is it an advantage to get my application in really early?
A. Yes. We need to find someone to work with us as quickly as possible. As soon as we find the right person, we'll be inviting them to join us and applications will be closed.
Q. When do applications close?
A. When we've either found the right person, or we're confident that we have a shortlist that will lead to a definite hire. We will announce updates both here and on Facebook to keep everyone in the loop at all times.
Section 3: I've sent in my submission. What happens now?
Q. Ok so I've applied for the position following all the guidelines given. What happens next?
A. We will begin reviewing and shortlisting applications. EVERY application we receive is reviewed. After an initial shortlist is compiled, our internal team review these and decide upon a final Stage 1 shortlist. Those people will then be contacted by phone to discuss next steps. Also, we post updates on Facebook, so we'll let everyone know when we're getting close to a shortlist and some follow up phone calls.
Q. Did you get my email?
A. You should receive an auto–responder from us confirming receipt of your email. If you haven't:
Check your spam or junk mail in case it landed there
Check you have only sent your submission to jobs@radium-audio.com and not directed to or included any other address
If neither of the above applies, email us again without any attachments or links with "NO RECEIPT RECEIVED" inserted at the end of your original subject line. We'll then check our autoresponder to be sure it's working properly, and let you know if we received your original mail.
Q. Should I phone just for a quick chat to follow up my application?
A. Please don't be offended, however we'd really prefer if you didn't. If we're blown away what you've sent us, we'll definitely be phoning you!
Q. Will you let me know about the outcome regardless of whether or not I've been successful?
A. Yes, once we've found someone, applicants who didn't hear from us by phone will receive a standard email notification. Also you can keep up with progress on our Facebook and Radium Careers pages where we will post status updates as they become available for any advertised role.
Thanks and good luck – we're looking forward to reviewing your submissions!