1608 Creative Pro Tools Editor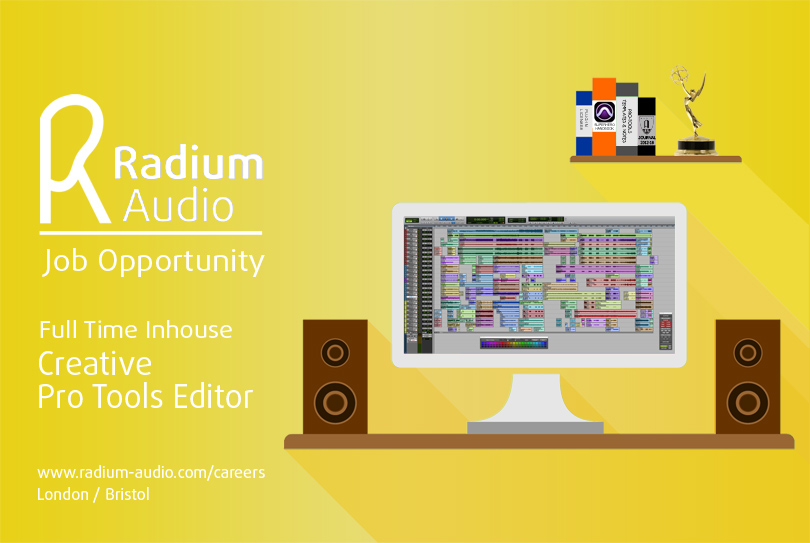 Update 28.09.16
Thanks so much to everyone who applied for this role! The position has now been filled.
The Role
We're looking for a Pro Tools music & sound editor to join our Bristol team full time. We're open to a variety of background and experience levels, so long as you demonstrate you have the focus and competency to deliver great work quickly and calmly under time pressure. You'll be editing and augmenting complex, multi channel, heavily dynamic music and sound files & sessions, both audio only, and sound to picture projects. An interest in Film/Trailer advertising would be helpful. Industry knowledge and experience is transferable, albeit you'll also be keen to learn and take on board our specific creative approach.
Key responsibilities
Editing & augmenting sound & music files/stems
Music editing/creative mashup
Cutting & editing music & sound to picture
Syncing & resyncing audio & video
File based audio laybacks
Important Skills
Avid Pro Tools – expert level – key skill
Logic – familiarity
Calm & quick under time pressure
Music production & mix "in the box"
Sound to picture
Musical ear
How to apply:
Apply by email to jobs@radium-audio.com with "1608 Pro Tools Editor [Your Name][Your Mobile No] in the subject line. Your covering note should include the following info:
Where you saw the opportunity
Why you'd be great at this
Approx salary range you'd be seeking
When you could start
Be sure to include web/download links to relevant work.