1509 Visual Internship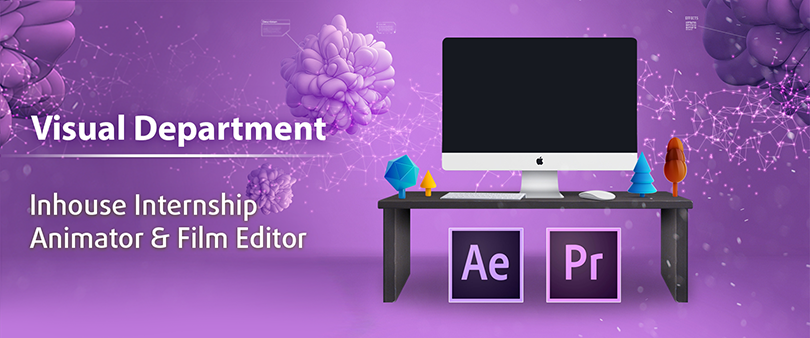 Update 02/11/15 We've decided to open this opportunity up again, as we're crazy busy on the visual team, and we could use some more help. Feel free to keep sending in your CV's, we're going to have another round of selection on this soon, thanks!!
Update 22/10/15 Thanks so much to everyone who sent in CVs and links to work! We had a lot of interest in this positon, and it has now been filled. There may be other similar opportunities to come though as we're very busy over the next few months, so watch this space!
Introduction
We have a visual internship opportunity with our growing Bristol team! You'll be joining our very dynamic internal graphics dept, collaborating to develop some cutting edge visual material, and working alongside an Emmy Award winning sound team. You'll be working on motion graphics, video editing, tracking, and using latest widgets and plug ins to create visual awesomeness! Check out our 1504 Illustrator/Designer job advert on the Radium Careers page to get a flavour…
What We're Offering
Highly creative studio environment
Opportunity to learn from and integrate into a successful and respected team
Paid professional experience for your CV
Potential for ongoing paid contract work
What You'll Bring
Working knowledge of Adobe Premiere and After Effects
Ability to quickly learn and adapt
Cheerful and friendly attitude
Self motivated and highly focused approach to work
How It Works
Your first week in studio will be an unpaid training & assessment period. Success upon completion of that week will lead to a 2 month paid full time inhouse contract as junior editor, with opportunities for ongoing contract work after this time.
Essential Skills
some Adobe Creative Cloud familiarity
After Effects CC working knowledge
Adobe Premiere CC working knowledge
Bonus Points
3D skills/C4D /Blender
Illustrator CC
Filming on Location
Colour Grading & Finalising
Other Important Stuff
You'll need to live or be staying within daily commutable distance of our Bristol Studio
Sound & Music Appreciation
Ping Pong ready and Xbox contender
Whiskey tasting session optional
How to Apply
Read the information above and the FAQ thoroughly.
Begin an email addressed to "jobs@radium-audio.com" with the subject line formatted like this: "1509 Visual Intern (Your Name) (Your Mobile Number)"
Attach your CV formatted as pdf to the email.
Include first, at the top of the email, a maximum of 8 links to work you've created which you think are most relevant to this position. These can be Youtube, Vimeo, Behance, or private links. Fine if you want to include a couple of sentences of explanation with each of your links, but not mandatory.
Underneath your links, write us a message summarising who you are, what you're about, and why you'd be a great asset to the visual team.
Hit "Send" and wait to hear from us!
Frequently Asked Questions
Section 1. Should I apply for this role?
Q. What level of experience do I need to apply?
A. As long as you have a working knowledge of Adobe Premiere and After Effects, and you're sharp on the uptake, you don't need any specific professional experience. Even though the position is paid after the initial assessment week, we've called it an internship because it's a great opportunity for a person with the right attitude to get foot in door, gain valuable experience and build their CV.
Q. Will I need to supply my own equipment?
A. No. There's a Mac Pro station and full fat Adobe Creative Suite waiting for you. Anything else you need, we'll supply that too.
Q. How do I know this isn't just a way of getting me to work for you for free for a week?
A. Ok, fair question. We've gone to the trouble of making up our job ad, with the involvement of 4 of our team contributing to getting it up online both on our website and the various other places we advertise opportunities. Then we spend time screening all the emails which come in, and conducting phone and in person interviews. We've allocated significant time over the first 2-3 days for one of our team to mentor you and bring you up to speed. All going well you should then be working independently and producing some great work by mid-late assessment week. It wouldn't be in any way worthwhile for us to go to all this trouble just to get someone in to work for free for a week. Hope that helps make things clearer!
Q. What do you mean by "success upon completion" of the initial assessment/training week. What does "success" mean exactly?
A. "Success" means that in the assessment week we can see really clearly that you're a great fit for us, you're going to make a valuable contribution to the visual team over the next couple of months, and we could see ourselves working with you on freelance projects after that time. We'll be investing our time in teaching and upskilling you, so naturally we want to find someone we can work with ongoing. We've worked with a lot of different people in various capacities on the team over time , and in our experience, we usually know very quickly if someone's a good fit for the team, has the attitude to succeed with us, and is learning & contributing at a viable level. One of the first projects we'll have you working on is heavy on Adobe Premiere and After Effects. So if you were going to be well prepared for that assessment week, you'd definitely be practising/extending your skills in those two applications in advance, because that's how you'll be making your first impression on us.
Q. How can I be sure I'll succeed after the initial assessment week?
A. We always screen carefully when we're hiring for inhouse and freelance team, because it's really disappointing for everyone if things don't work out, and we go to a lot of effort to avoid that outcome. We'll catch up for a chat about how things are going at the end of your assessment week, and let you know if we're intending to continue, which we very much hope we will. It takes a specific type of person and creative approach to fit with our team. We're quite intense about what we do and we're perfectionists. Socially we're relaxed, as you'll see when you get a load of the massive chillout area with DJ decks, full bar, unlimited Nespresso, vintage arcade machine, table tennis, Xbox and giant wallscreen available to all the team after hours and any other time they need some headspace for a bit. But when it comes to work we take what we do very, very seriously. It helps a lot if you do too.
Q. Contract work is great, but I really want a full time inhouse job? Is there any likelihood this internship could lead to that?
A. Yes, it's possible that could happen. But we're not making any commitment as we can't see that far ahead right now. What we do know is that we urgently need someone to come and help us out for a couple of months, because you'll be joining an existing team with people to show you the ropes we can offer it as a junior role, and that afterwards, since you'll have already spent a couple of months successfully inhouse with us, it's only natural we'd invite you back again anytime we need extra help.
Q. I don't live near your studio right now, but I'd be willing to relocate if I got the internship. Can I still apply?
A. Yes you can, but you'll need to be really well organised with your logistics. If you make it through to the final shortlist, you will need to travel at short notice at your own expense to attend the studio in person for interview, and as we want to find someone to start as quickly as possible, you'll need to relocate with lightning speed if offered the position.
Q. I don't live in the UK, but I'm an EU citizen and I have the right to move to the UK and take employment without any restrictions. Can I still apply?
A. Yes you can, but you'll need to be really well organised with your logistics. If you make it through to the final shortlist, you will need to travel at short notice at your own expense to attend the studio in person for interview, and as we want to find someone to start as quickly as possible, you'll need to relocate with lightning speed if offered the position.
Q. I don't live in the UK, and I also live outside the EU. Can I still apply?
A. Strictly speaking yes you can, but the logistics may be difficult. You will need to demonstrate to us with your initial application that you have the unrestricted right already in place to live and work in the UK, as we are not able to assist with immigration issues and work permit applications. You will need to travel at your own expense to attend the studio in person for an interview, at very short notice. And you'd need to relocate with lightning speed if offered the position. We will be giving priority to people who are available and present in Bristol to commence immediately on this occasion.
Q. I don't live near the studio, but I'd be willing to work remotely. Can I still apply?
A. Sadly, no. For this position, we're really looking for someone to join the inhouse team. Given the highly fluid and organically creative nature of what we do, we feel the best results can only be achieved from being physically and mentally present and together as a team. So unfortunately remote working doesn't fit with what we're looking to achieve from this role.
Q. I'm not looking for a full time inhouse position, but I'd be interested in freelancing for you as and when. Can I still apply?
A. This is not an external freelance position, we are definitely looking for someone to work with us inhouse full time. We will advertise for freelancers when we have a specific requirement for that.
Q. I'm not right for this role, but could I just spend some time in studio observing?
A. We're often working on projects for clients which are highly confidential, so while we don't want to be anti-social, mostly we try to avoid having observers in studio who are not directly working on projects in progress. You can sign up on our Radium Careers page to be notified of any opportunities right for you that do come up.
Q. I'm not really right for this role, but can I just send you my work speculatively? Do you have other opportunities happening soon and will you remember me when they come up?
A. Given that we're expanding, we will definitely have further opportunities to come soon. We wouldn't say "no, don't send us your work" because we take it as a compliment that you'd choose to share it with us. But realistically, we're flat out most of the time and while we review speculative applications occasionally, given the volume we receive it's difficult to make an ongoing commitment to review all of them. Also, if you're sending us a general email about your work, you're essentially shooting blind. Whereas if you're responding to a specific callout we've made, you'll be able to shape what you send us so that it fits with what we're looking for at that time, and we do commit to reviewing EVERY submission when it's for a role we've advertised. You're more likely to grab our attention if you submit something we've specifically asked for, in the way that we've asked for it, at the time we're looking for it.
Section 2 . Ok I've decided I'm going to apply, and I'm preparing my submission …
Q. You say to submit 8 links showing the work most relevant for this position. But I'm still not sure what I should send you?
A. We're particularly interested in work you've done in Adobe Premier and After Effects, so be sure to include that. Student and personal projects are fine, it doesn't have to be commercial work. We just want to see what you can do. Once you've got that covered, take a look at the "Bonus Points" list in the job info, and see what else you have you could share.
Q. Can I be creative with the format of my application? The way I like doing things is different to what you've asked for.
A. We don't want to be unnecessarily rigid, but given that we do tend to receive a lot of material to organise and review, and your application gives us an idea not just about your creative and technical skills, but also about your ability to follow team instructions correctly and organise your own work and team work, it will be to your advantage to work within the submission guidelines we've given.
Q. I have some material to share but it's not totally all my work although I contributed. Is it ok to submit?
A. Ideally all work submitted should be completely your own, not a collaboration. If you are submitting a piece you've jointly worked on with someone else, please make it clear to us exactly what your contribution was. Your contribution should be something directly relevant to this position.
Q. Is it an advantage to get my application in really early?
A. Yes. We need to find someone to work with us as quickly as possible. As soon as we find the right person, we'll be inviting them to join us for the assessment week and applications will be closed.
Q. When do applications close?
A. When we've either found the right person, or we're confident that we have a shortlist that will lead to a definite hire. We will announce updates both here and on Facebook to keep everyone in the loop at all times.
Section 3: I've sent in my submission. What happens now?
Q. Ok so I've applied for the position following all the guidelines given. What happens next?
A. We will begin reviewing and shortlisting applications. EVERY application we receive is reviewed. After an initial shortlist is compiled, our internal team review these and decide upon a final Stage 1 shortlist. Those people will then be contacted by phone to discuss next steps. Also, we post updates on Facebook, so we'll let everyone know when we're getting close to a shortlist and some follow up phone calls.
Q. Did you get my email?
A. You should receive an auto–responder from us confirming receipt of your email. If you haven't:
Check your spam or junk mail in case it landed there
Check you have only sent your submission to jobs@radium-audio.com and not directed to or included any other address
If neither of the above applies, email us again without any attachments or links with "NO RECEIPT RECEIVED" inserted at the end of your original subject line. We'll then check our autoresponder to be sure it's working properly, and let you know if we received your original mail.
Q. Should I phone just for a quick chat to follow up my application?
A. Please don't be offended, however we'd really prefer if you didn't. If we're blown away what you've sent us, we'll definitely be phoning you!
Q. Will you let me know about the outcome regardless of whether or not I've been successful?
A. Yes, once we've found someone, applicants who didn't hear from us by phone will receive a standard email notification. Also you can keep up with progress on our Facebook and Radium Careers pages where we will post status updates as they become available for any advertised role.
Thanks and good luck – we're looking forward to reviewing your submissions!