1602 Mix Engineer / Audio Editor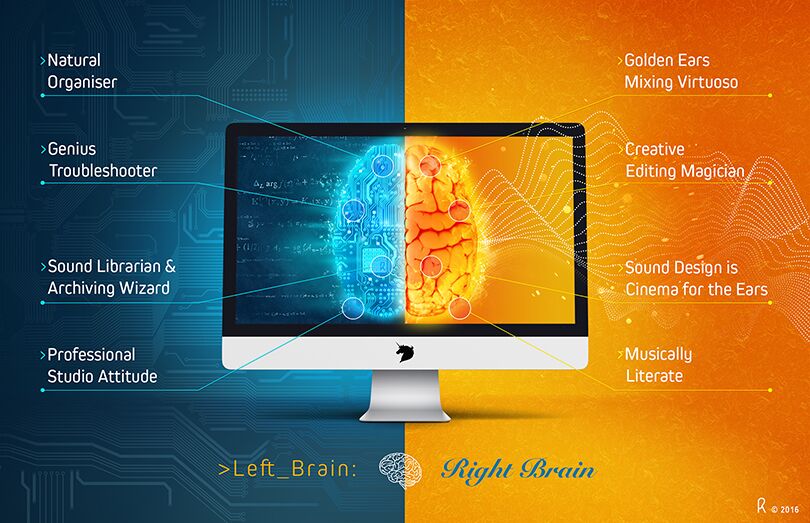 Update 29/07/16
Thanks so much to everyone who applied for this role! We're happy to announce the position is now filled.
Update 01/06/16
Ok so we're now moving towards a final shortlist, and we're starting to schedule phonecalls with people we'd like to initially chat further with. Keep an eye on your email, and if we've reached out to you about this, appreciate if you could get back to us asap – thanks!.
Update 22/05/16
So far we've received a total of 394 applications with examples for this role, and we've had 2 review rounds. At this point, 47 of the applications are still active and we're now moving to create a shortlist for informal phone chat. Everyone else has now heard from us by email that we won't be progressing with further review of their material. A couple of applications had unexplained issues with corrupt/missing files, we've been in touch individually to request a resubmit where necessary. So if you HAVEN'T heard back from us yet about the outcome of your submission, then you're still under consideration for the role. Just to clarify the situation with assets submitted by Wetransfer – once the position has been filled, we will be deleting from our server all assets submitted to us in support of applications. Your emails with any attachments, will remain in our email server for the standard storage cycle as part of those records, however your downloaded audio assets stored separately on our server will not be retained. Once again, thanks to everyone who has taken time to submit for this. Further updates to come.
Update 16/05/16
So it's taken a little while, however we've now completed our first review of the 300 plus applications we received in for this role. There's been a high calibre of submissions from some very experienced and skilled individuals, it's a shame we can only hire 1 person for the position. Today we've reached out by email to some applicants who have not been successful this time. Usually we wait until after we've hired to let everyone know their outcome, but as we've had a lot of follow up emails and queries from people wanting news about their submissions, we decided this time to trial a change in our process to let people know immediately once we've decided not to continue with further review of their submission, and see how that works for everyone. So if you haven't heard from us yet, then your application is still in play. Also, we are still accepting new applications at this stage, albeit we'll likely close this off once we're further in along in the review process, so if you're intending to throw your hat in the ring for this, please now get submissions in promptly. Watch this space for more news – thanks!
Update 01/04/16
We've had over 370 applications in for the role so far, thanks so much to everyone who has applied! However, many applications have only come with CVs and cover letters, and no examples or links to work either by email or in the cover letter /cv document. For those of you who have applied this way, we'll be very happy to review your work if you'd like to resend and include as much as you can of the material we've asked for. For the 125 applications we've had so far who DID submit some or all of the link/download material we asked for – thanks for taking time to work through the instructions and FAQs and put together your material, and we've started listening through your submissions as we get time. Some really impressive work in there! We've had a lot of enquiries about deadlines for application. So to clarify, we're a bit tied up on a big project right now which we'll be finishing up 3rd week April, so we're thinking we'll continue to run the ads at least until then while we go through submissions as we get time, and at that point look to compile a firm shortlist and start making contact with some of you we'd like to chat with further about the role.
The Role
We're looking for a versatile mix engineer/audio editor with a flexible attitude and bags of common sense to join our Bristol team. You'll be editing, mixing, mastering our music and sound every day. You'll be dropping sound design to picture, and tracklaying client projects as needed. You'll also be the "responsible person" onsite, and be in charge of ensuring overall studio operations at the Bristol studio run smoothly. This is a full time inhouse salaried position.
Here's what you'll be doing:
Every Day
Sound & Music Editing (Creating Alt Versions, Looping Versions, and Stems of existing tracks)
Mixing/Remixing (music stems & tracks)
Often
Mastering (music tracks)
Sound Design & Music Tracklay to Picture
Where Needed
Sound Recording Session Co-ordinate/Assist
SFX Library Management Co-ordinate/Assist
Bristol Studio Site Management
Here are the tools you'll be using:
Software / Equipment
SOFTWARE
Protools (Main tool)
Logic (Familiarity)
Soundminer
Basshead
iZotope
HARDWARE
Apple Server Environment
Mac Pro (Black Dustbin!)
Mastering Outboard
Signal Processing
Spectral Analysis
Tape Machines
Dynamics
Microphones
Tone Shaping
Preamps
Equalisers

If someone else should describe you to us in bullet points, we think they might say something like this:
Has at least 2 years professional experience in broadcast edit suite or music studio
Creative problem solver with stacks of common sense
Alert, quick thinking, high energy person.
Excellent creative ear for music and sound
Produces clear, dynamic, cinema quality music & sound mixes
Works fast and cheerfully under pressure, quick turnaround deadlines no problem at all where needed
Can build great relationships with and co-ordinate a small team, whilst maintaining professional demeanor and alignment with management goals
Highly organised, disciplined, and structured in work habits
Protools expert
Some familiarity with Logic
Loves to learn new tech, reads manuals, quick on the uptake
"Whatever it takes" attitude, happy to muck in
Totally reliable, can confidently be left to get on with it unsupervised
Interested to apply? Here's what you need to do:
Prepare as much of the following as you have available to send to us
CV (pdf file)
2 before/after mix examples (wavs – tell us what equipment/tools you used)
2 before/after remix examples (wavs – tell us what equipment/tools you used)
2 before/after mastering examples (wavs – tell us what equipment/tools you used)
2 examples of your sound design to picture
Covering letter telling us
Where you first saw our job ad
Your favourite tools for mixing (hardware/software)
Your key musical influences
Why you'd be really great in this role
Your salary expectation
and submit in the following format
Covering letter via email with CV attached as pdf
Mixing, remixing and mastering examples should be included in the covering letter as WeTransfer download, folders and wav files, named & organised so it's easy for us to know who sent each of the folders/files and what they are.
Sound to picture examples can be web links in the covering letter.
Send your email to jobs@radium-audio.com using subject line format "1602 Mix Engineer/Audio Editor [Your Name Your Mobile No]"

ANDREW SAYS:
Now we've covered all the official job ad stuff above, I wanted to talk about this role from a more informal and intangible point of view. I wanted to express some things which don't really fit in a job ad or a job description. But I think they're still important to say.
Radium is 9 years old, and we've worked our way up from initial humble beginnings to being invited to work on some very high profile projects. We have a shelf full of awards, including a couple of Emmys. But we don't want to just stop there. We have a great client base we work with regularly, and the Radium website gives a lot of insight into that side of what we do. However, for the past while we've also been heavily exploring some new creative paths and had some success with that, albeit you won't find any info about it online just yet. We keep evolving, and that's why I'm really excited to start the search for someone new to come and join us on the next step of our journey into sound, and help us sculpt the future of what we're doing. Check out this Spotify playlist. If it resonates with you, then it's worth your while to read on afterwards …
Strictly speaking, we're not exactly like most industry commercial studios, although we do have a few things in common with them. We deliver like a commercial studio, we have similar kit, comparable technical requirements, and likewise mixing and mastering are important cornerstones of what we do. What's different is that commercial studios can have hundreds of clients booking in, visiting, and passing through every year, sometimes more. They all have different wants and needs for their projects, their sound, and their aspirations. If you come on board with us, you really only have one client. Radium. Joining our team is like joining a band. You'll be working with us every day to push forward our sound. If you happen to come from a commercial studio background, your skills and experience are very transferable. I think the key difference is that you'll be creatively and technically focused on a narrower bandwidth, which means you can move further with it faster, and get really deep into what you're doing. If that's piquing your interest, then here's what we think is in this for you:
You get to be part of something sonically that's cutting edge, future thinking, and next-gen
You can advance your career, in a job with serious prospects that rewards you creatively and professionally
You get to play an important part in developing our mixing and mastering suites based on research and experimentation. The more experience you have with hardware/software/microphones the better, and we'd really love for you to help sculpt our new studios.
If you live in Bristol, you're already in luck. If you're elsewhere, you get to move to "Britain's Best City to Live In" according to the annual Sunday Times survey. Some of our team here moved out from London. They say they've never looked back. And if the capital calls in your down time, it's only 1hr45mins away by train. We're comparatively new to Bristol. But we're all big fans.
Delivering on the job spec being a given, here's what we'd really love to get from this ourselves:
To work with someone new who lives and breathes sound and music like we do. Doesn't just turn up purely for the pay cheque. REALLY lives and breathes it.
To bring someone new on board who has the determination and stamina to push their craft forward unrelentingly. Loves hard work. We're right there with you.
To work with someone who shares our techno lust for exploring new gear purchases and ourboard, and is way better at it than we are.
To lift our sound to the next level, in part, because you came and joined us
Whoever you are, wherever you are, we're all really looking forward to meeting you soon.
Andrew and Team

Frequently Asked Questions
SPECIFIC TO THIS ROLE
Q. I don't have much in the way of professional studio experience. Can I still apply?
A. We think you'll definitely need some professional studio or edit suite experience to shine in this role, probably a couple of years worth. It's not a junior position.
Q. This role seems really varied. What's the main focus? A. Definitely the music mix & remix, sound & music editing/tracklaying. Those skills are non-negotiable, and you need to bring a high level of competence in these to the table with you. The others we've mentioned can likely be picked up on the job by the right person. You'll be responsible via the mixing/mastering process for making sure that the final audio assets leaving our studio have cinema quality clarity and punch. We've got some very tasty kit for you to play with.
Q. I'm an amazing mix producer/engineer. But I've not done sound design to picture before. Is that a problem?
A. We would expect that you're able to edit slick and professional sound design to picture in a post production setting. We don't expect you to create and design sound effects, we have others to do that. But you'll need to be able to select the right sounds for a brief from our library and edit/tracklay these to create high quality sound design narratives to picture where required in client projects.
Q. I'm an amazing mix producer/engineer. But I'm less familiar with the mastering side of things. You know that's a different thing, right?
A. Yes, we know, different, but complementary. We're a small team, and we all have a certain amount of cross functionality for that reason. So even if you haven't done much in the way of mastering, we'd want you to take that on board, and view it as adding a final polish to the fantastic mix/remix/edit/sound to picture work you've already done.
Q. I'm a composer too. Does that give me an advantage? Will I get to write music for your projects?
A. We have others on the team who do that. So no, there's no advantage in that, and whilst you'll be asked to do remixes, you won't need to originate music in that way. We're very focused on finding the skillset we've specifically asked for, to fill this role.
Q. What about the sound recording you mentioned? I've never done that?
A. It would be great if you have some foley/sound recording experience and could jump into that where needed, but it's not essential. Occasionally we might ask you to lend a hand holding a microphone or throwing/twirling/shaking something we've got miked up to record. You may also need to co-ordinate dates/times of recording sessions to fit in with specific deadlines when the material is specifically needed for a project.
Q. What do you mean by "SFX Library Management …" etc
A. We make a lot of our own sound effects and samples from scratch. These need to be carefully organised and managed on the server, and you'll be one of the people who co-ordinates and oversees that.
Q. I'm an amazing mix producer/engineer. But I'm not sure about "Studio Site Management". What's involved with that?
A. The site management side of things isn't something that needs attention every day, but somebody onsite needs to be responsible overall, and that comes with this role. It's not rocket science, just needs a responsible attitude, organisation and common sense. Here's the lowdown. Some of this you'll handle yourself, other aspects you'll co-ordinate with others. These aren't continual jobs, however will need your attention from time to time.
Security
Make sure studio security procedures are being followed by the team
Book annual alarm/security/CCTV system maintenance and any ongoing repair visits with our contractors
Health & Safety
Make sure our existing health & safety procedures are followed.
Make recommendations for anything which should be included if further risks are identified
Server Management
Liaise with our server install and maintenance contractors for any work/maintenance visits which need to be scheduled, and any troubleshooting required
Keep the team up to date with occasional changes/updates made to the server operation/configuration
Maintain and update records of software installers, updates, licences.
Equipment Inventory
Ensure full inventory taken twice annually.
Maintain warranty/maintenance records for inventory
Liaise with suppliers for any necessary maintenance/repairs of equipment
Ensure SFX team are returning all equipment to inventory which has gone out, and that it is in good repair
Studio Maintenance
If something breaks, arrange to get it fixed. If you're handy with practical stuff, awesome. If not, arrange a contractor to come and do the job.
Community Participation
Attend Bottle Yard site meetings on Directors' behalf where needed – usually once per month
If Directors aren't available, show visiting VIPs around the studio as needed
Q. What's the salary on offer?
A. It's going to depend on you and what you're bringing. Tell us what you'd want to be paid, and why. Be realistic – we'll be taking you at your word and assuming you won't take less than what you've told us, so don't unwittingly price yourself out of our range with the expectation that we'll try to negotiate you down. If you're right for us and we can afford you, we'll pay what you're worth.

GENERAL FAQs
Section 1. Should I apply for this role?
Q. I don't really fit with the role you've described, but I'd love to be a part of your team. Can I apply with material that isn't in the style that you're asking for, on the offchance I might catch your attention for another role?
A. We'd really prefer if you didn't. We do tend to receive a lot of submissions and we really want to focus our time and attention on those which are right for the specific role we need to fill immediately. We don't hire without advertising the opportunity publicly so if you've signed up on the Radium Careers page to be notified of new opportunities, you'll know immediately when we do have something that might suit you.
Q. I don't live near your studio right now, but I'd be willing to relocate if I got the job. Can I still apply?
A. Yes you can, most of the application process can be completed remotely. However if you make it through to the final shortlist, you will need to travel at your own expense to attend the studio in person for final interview stages, and to relocate urgently if offered the position. Also, we are looking for someone to start asap, so candidates who are available to do so will be given preference.
Q. I don't live in the UK, but I'm an EU citizen and I have the right to move to the UK and take employment without any restrictions. Can I still apply?
A. Yes you can. Most of the application process can be completed remotely. However if you make it through to the final shortlist, you will need to travel at your own expense to attend the studio in person for final interview stages, and to relocate urgently if offered the position. Also, we are looking for someone to start asap, so candidates who are available to so so will be given preference.
Q. I don't live in the UK, and I also live outside the EU. Can I still apply?
A. You will need to demonstrate to us with your initial application that you have the unrestricted right already in place to live and work in the UK, as we are not able to assist with immigration issues and work permit applications. Most of the application process can be completed remotely. However if you make it through to the final shortlist, you will need to travel at your own expense to attend the studio in person for final interview stages, and to relocate if offered the position. Also, we are looking for someone to start asap, so candidates who are available to do so will be given preference.
Q. I don't live near the studio, but I'd be willing to work remotely. Can I still apply?
A. For this position, we're really looking for someone to join the inhouse team and and given the highly fluid and organically creative nature of what we do, we feel the best results can only be achieved from being physically and mentally present and together as a team. So unfortunately remote working doesn't fit with what we're looking to achieve.
Q. I'm not looking for a full time inhouse position, but I'd be interested in freelancing for you as and when. Can I still apply?
A. This is not an external freelance position, we are definitely looking for someone to work with us inhouse full time. If we are looking for freelancers we will advertise for that specifically.
Q. I've applied with you before and not been successful. Is it pointless to apply again?
A. Not at all, give it another shot! As long as you fit with the role as we've described, you have the right material to submit and you follow the current instructions for submission, definitely do apply again. A number of our team have made unsuccessful applications before finally gaining a position.
Q. I'm not right for this role, but could I apply for an internship or some work experience, or just spend some time in studio observing?
A. We're often working on projects for clients which are highly confidential, so while we don't want to be anti-social, mostly we try to avoid having observers in studio who are not directly working on projects in progress. Sometimes we do have opportunities for internships or work experience, and we ALWAYS advertise these as it has happened in the past that the occasional intern has come in, blown us away with energy, commitment, talent and usefulness, and progressed eventually to a permanent position on the team. So we want to throw the net as wide as we can. You can sign up on our Radium Careers page to be notified of any opportunities that come up.
Q. I'm not really right for this role, but can I just send you my work speculatively? Do you have other opportunities happening soon and will you remember me when they come up?
A. Given that we're expanding and opening a new studio, we will definitely have further opportunities to come soon. We wouldn't say "no, don't send us your work" because we take it as a compliment that you'd choose to share it with us. But realistically, we're flat out most of the time and while we review speculative applications occasionally, given the volume we receive it's difficult to make an ongoing commitment to review all of them. Also, if you're sending us an off the cuff email about your work, you're basically shooting blind. Whereas if you're responding to a specific callout we've made, you'll be able to shape what you send us so that it fits much better with what we're looking for at that time, and we do commit to listening to EVERY submission when it's for a role we've advertised. You're more likely to grab our attention if you submit something we've specifically asked for, in the way that we've asked for it, at the time we're looking for it.

Section 2 . Ok I've decided I'm going to apply, and I'm preparing my submission ….
Q. I've been looking for a job in sound and music for a while, and I have a standard submission with covering email and CV that I usually send off to prospective employers. Is it ok if I just send you that?
A. You will be at a disadvantage in the application process if you haven't shaped your submission to fit the role on offer.
Q. I have a lot of great material I'd love to share with you in my submission. Can I send in more than what you've asked for?
A. We'd really prefer if you kept to what we've asked for. We tend to have many submissions to review and we've limited what we've asked for to numbers that we think gives great opportunity to show off your best work, while still ensuring we have enough time to check out everything you've sent us.
Q. Can I be creative with the format of my application? I want make my application in a different way to what you've asked for.
A. We don't want to be unnecessarily rigid, but given that we do tend to receive a lot of material to organise and review, and your application gives us an idea not just about your creative and technical skills, but also about your ability to handle indepth documentation and follow instructions to brief, it's to your advantage to follow carefully any instructions we've given for the application process.
Q. Is it best to get my application in really early?
A. In this case, yes, as we're looking to make a hire asap.
Q. When do applications close?
A. When we have a shortlist we're comfortable with. Typically we tend to run recruitment campaigns for 1-2 months, and we announce on Facebook when we're getting close to closing off. But could be sooner depending on quality of applications we receive.

Section 3: I've sent in my submission. What happens now?
Q. Ok so I've applied for the position following all the guidelines given. What happens next?
A. Andrew Diey, Radium's Creative Director will begin reviewing and shortlisting applications. EVERY application we receive is reviewed. After an initial shortlist is compiled, our internal team review these and decide upon a final shortlist. Those people will then be contacted by phone to discuss next steps. Depending on how many applications we receive and review, it may take a few weeks to compile the shortlist, so don't be discouraged if you don't hear from us immediately. Also, we post updates on Facebook, so we'll let everyone know when we're getting close to a shortlist and some follow up phone calls.
Q. Did you get my email?
A. You should receive an auto –responder from us confirming receipt of your email. If you haven't:
Check your spam or junk mail in case it landed there
Check you have only sent your submission to jobs@radium-audio.com and not directed to or included any other address
If neither of the above applies, email us again without any attachments or links with "NO RECEIPT RECEIVED" inserted at the end of your original subject line. We'll then check our autoresponder to be sure it's working properly, and let you know if we received your mail.
Q. Should I phone just for a quick chat to follow up my application?
A. Please don't be offended, however due to volume of enquiries we tend to get, we'd really prefer if you didn't. If we like what you've sent us, we'll definitely be phoning you!
Q. The WeTransfer link I sent you expired and I don't think you've downloaded it yet. What should I do?
A. In most cases we download WeTransfer material within a couple of days of receiving your application. It's then filed for review, which the team will get to as soon as they have time. With many of the emails and phone follow ups we receive from people who haven't received a download confirmation from WeTransfer, we have actually fetched and filed the assets already, so we're not sure why WeTransfer isn't accurately reporting back on that. So long as you have whitelisted the email address "jobs@radium-audio.com" you will receive an autoresponder for your initial email application, after that, don't do anything further until we get in touch. If for any reason your WeTransfer link expires, we can't download it properly, or we have any issues reviewing the assets, we'll reach out to you directly to request a resend.
Q. Will you let me know about the outcome regardless of whether or not I've been successful?
A. Yes, once the recruitment process is complete applicants who didn't hear from us by phone will receive a standard email notification. Also you can keep up with progress on our Facebook and Radium Careers pages where we will post recruitment status updates as they become available for any advertised role.
NB: Want to jump the review queue? We're prioritizing submissions who insert the text *GODZILLA* in subject line before the "1602 Mix Engineer/Audio Editor [Your Name Your Mobile No]" as a thankyou for helping us survey how often people scroll down to the bottom of the FAQ.
Thanks and good luck – we're looking forward to reviewing your submissions!