Graduate Submissions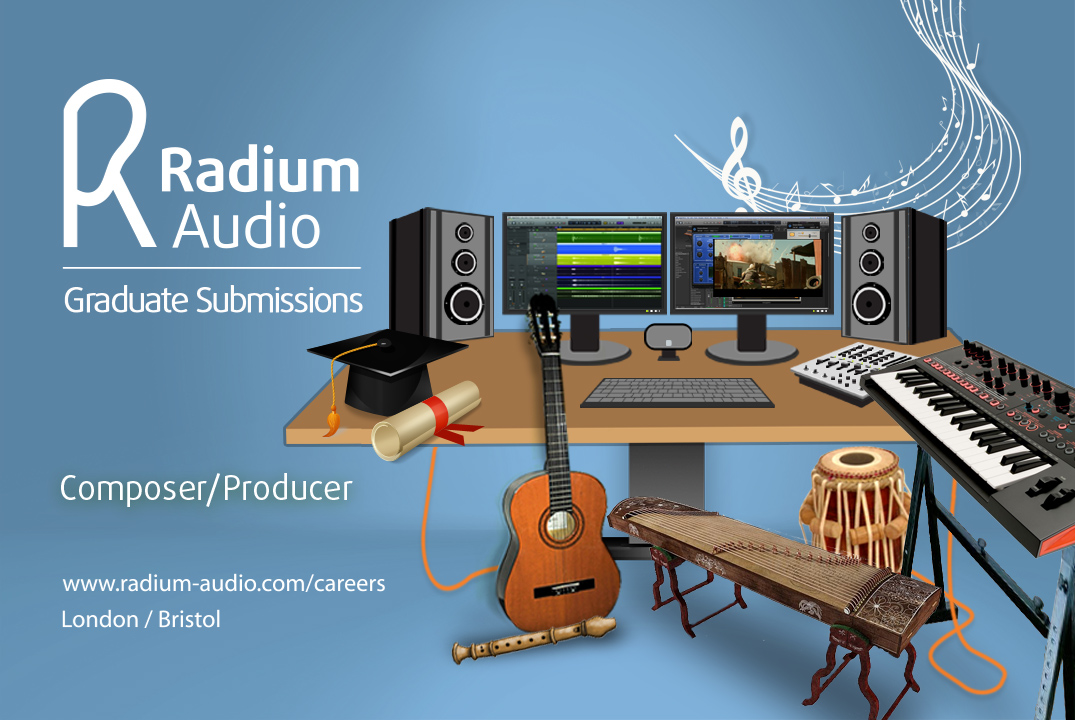 25.07.18 UPDATE
Having received and reviewed 1500 submissions, we have now filled the 2 development places we had available. Thank you to everyone who applied!
16.03.18 UPDATE
We've now received just over 1400 submissions for this opening – thanks to everyone who has applied so far! We've now allocated one of our development places, with the second still remaining available at this stage. If you sent in your submission prior to 31 December and haven't heard back from us yet, then at minimum you've passed through the initial review round to second stage assessment, and possibly further. Submissions received from 1 January are still in initial assessment stage. We will get back to everyone who has applied just as soon as we can.
09.01.18 UPDATE
Submissions received for this opening now number over 1200. So far we've reviewed and responded to over 800 of these, and working through the remainder as soon as we can. If you sent in your submission before mid November, and you haven't heard back from us yet, it's because we've set your submission aside for further consideration. If you applied after mid November, we may not have reviewed your submission yet, but we'll be getting to you as soon as we can.
09.10.17 UPDATE
So far we've received close to 900 Graduate Submissions, and we're working through these as quickly as we can. To date we've reviewed and responded to just over half of that number. If you haven't had an email from us yet about the outcome of your application, it means either that we haven't reviewed your submission yet, reviewing is in progress, or that we've earmarked your submission for potential further progression. So if you've submitted, thank you for making the effort, and we'll get back to you just as soon as we can. If you haven't reached out but considering throwing your hat in the ring – go ahead and get in touch. There's still time, and we'd love to hear from you!
THE OPPORTUNITY:
Although for convenience we refer to this as Graduate Submissions, you don't have to have completed tertiary qualifications to apply with us. However for this opportunity, we do require that you be comparatively new to industry, available now to get started, and have not applied for a similar role with us previously.
Sound appealing? Great, then keep reading! We've filled several positions over the past year, so we have a comparatively full team right now. However, we are open to working with up and coming Composers/Producers on a development basis. Because this particular conversation is all about new talent, read on if BOTH of the following apply to you:
You are an aspiring composer/producer, comparatively new to the commercial world in these disciplines
You have never applied for a composer role with Radium previously.
NB: For anyone with significant industry experience; who has applied with us for a composer role in the past; or with expertise in other disciplines, check out Open Submissions for info about how best to reach out to us.
If you watched, and really listened closely to our Teaser Reel above, you'll already be building an idea of what we're looking for, and the type of material to send us to best get our attention. Additionally, here are some starting points for success with the music team:
WHAT WE'RE LOOKING FOR:
knack for writing strong hooks, themes and motifs
competent, slick arranger/producer in DAW environment
multi instrumentalist, preferably including piano/keys
competent flow with Logic/Pro Tools
some familiarity with industry standard virtual instruments/libraries
alert, quick thinking, focused & disciplined, calm under pressure
connection with electronic music styles & production
connection with hybrid/orchestral advertising & trailer music
Interested? Here's what to do:
HOW TO APPLY:
Quick rundown – you'll need to do the following in your email application
Follow the "Preparing Your Submission" instructions below very closely
Send us streamable links to 5 music tracks you've created
Answer point by point the questions detailed below
Attach your CV as a pdf
Tell us a little about you.
Sound ok? Read on below for full detail:
PREPARING YOUR SUBMISSION:
1. ADD OUR EMAIL ADDRESS TO YOUR ADDRESS BOOK
VERY IMPORTANT: Add the email address "jobs@radium-audio.com" to your address book/contacts list/white list, so you'll be sure to receive the autoresponder telling you we received your application, and you don't need to contact us again to confirm that.
2. START YOUR APPLICATION EMAIL
Create an email addressed to jobs@radium-audio.com.
3. FORMAT YOUR EMAIL SUBJECT LINE
In the subject line of your email, put "Graduate Submission Music – ", your name, and cellphone number, formatted like this:
"Graduate Submission Music – Jo Bloggs – 07665 125 978"
4. ATTACH YOUR CV AS A PDF
Attach to the email your current CV as a pdf. Be sure this CV includes at minimum the following information.
Your current physical address
DAW competencies and skill levels
Audio qualifications/training, and the dates you achieved these
Links to your website/bandcamp/soundcloud profiles etc
5. SHARE 5 x MUSIC EXAMPLES WITH US
To begin the 1st section of your application email, make a heading "MUSIC EXAMPLES".
Paste in 5 clickable, streamable links to examples of your music. Use the Teaser Reel and the "What We're Looking For" bulletpoints above to inform your choices.
If you don't have 5 examples of the type requested, then create some demos specifically for this application to make up the number requested. Use our Teaser Reel and "What We're Looking For" bullet points above to guide your creative choices.
Your examples must be tracks which you yourself have created. They must not be collaborations with others, or band tracks.
For review, we tend to prefer Vimeo, Behance, Youtube, Soundcloud for ease of streaming, however open to other options so long as they work seamlessly. NB: We sometimes find Google Drive and Dropbox links buggy and difficult to access. Private passworded links are fine, use "radium" for the password.
Please double check your links before sending to be sure they are directly clickable from your email, streaming without error, and don't require us to copy/paste into browser to access.
Please DO NOT label the tracks/links with Radium Audio's name.
Underneath each of your 5 links in your email, write us a paragraph about the tools you used to create & produce the track. If you used virtual instruments/libraries, tell us which ones.
6. TELL US ABOUT YOUR TECHNICAL KNOWLEDGE
Below your 'MUSIC EXAMPLES" section with your streamable links and notes, make a new section heading, "TECHNICAL" and in brief bulletpoint-ey fashion, answer the following questions:
Pro Tools
What Pro Tools version are you currently using? Rate yourself as "beginner", "intermediate" or "advanced". If you don't use Pro Tools that's fine, just say so.
Logic
Do you use Logic? If not, that's fine, just say so. If you do, what version? Rate yourself as "beginner", "intermediate" or "advanced".
Other DAWs
What other DAWs do you use for music creation? Rate yourself as "beginner", "intermediate" or "advanced" on each.
Musical Instruments
List each musical instrument you can play, and give level of competency as "beginner", "intermediate", or "advanced". Additionally, it's ok to include a couple of lines of notes for each instrument expanding on level of competancy if you wish.
Audio File Editing
List up to 5 tools you use for audio cleanup, repair and editing? Rate yourself on each as "beginner", "intermediate" or "advanced". If you don't use any that's fine, just say so.
Hardware
a. List up to 5 compressors, EQs or physical outboard machines you've used before, and rate yourself on each as either "beginner", "intermediate" or "advanced". Give a 1-2 sentence summary of what you liked about each of them. If you've not used hardware and only ever worked in the box, that's ok, just say so.
b. Have you worked on a physical console desk before? (SSL, Neve, similar?) If not, that's ok, just say so. If so, specify which model/s, and rate yourself "beginner", "intermediate", or "advanced".
7. TELL US ABOUT YOU
Below your "TECHNICAL" section in your email, make a new heading "ABOUT ME". Tell us:
Where you saw the ad or how you found out about this position
What you're doing right now
How your experience/skills would bring value to the team, making specific reference to the information we've given about what the job requires
Approx availability date to start
8. STOP! DOUBLE CHECK.
Go back and double check: have you carefully followed Steps 1 – 7? If not, please now revise your application in line with the formatting and info we've asked for. Also, we strongly recommend reading through the FAQ at the bottom of this page before you get in touch, as you'll find some useful insights there about what we look for in applications.
9.GOT STEPS 1 – 8 TOTALLY COVERED & READ ALL THE FAQ?
Great! Now hit "send", and throw your hat in the ring!

Q1. What's the Closing Date?
Closing date is open ended. We have capacity to make 2 placements on development basis available with the music team, filling those will depend on finding the right people. Once we do, we stop looking/recruiting for this. So if you're interested, get your application in asap. We'll post an update both on Facebook and at the top of this page when we fill the two places, so you don't have to wonder if the opening is still available.
Q2. I have a bunch of questions. Shall I just fire an email through to you?
We're happy to answer any appropriate questions so long as the answers are not already included here. So please read through ALL the FAQ before you get in touch, thanks!
Q3. I didn't choose to go to University, but I've attended other types of courses, and I fit the criteria for this opportunity. Can I apply?
A. Yes absolutely. Composition/production learning can be helped along at Uni, however there are other paths to developing those skills. We're open to people of all backgrounds for this so long as they fit the specified criteria for application.
Q4. I haven't had any formal tertiary music education, but I'm an aspiring composer/producer, I fit the criteria for this opportunity, I upskill myself using internet resources, and I'm creating all the time. I'm just looking for an opportunity to really get started in my career. Can I apply?
A. Yes absolutely. Mad skills in composition/production can be boosted by taking tertiary and formal courses, but ultimately it's down to the individual to really develop themselves, and formal courses of study are not the only way to do that. Ultimately our judgement call is made when we check out your 5 examples. So make them count.
Q5. I've graduated and I'm trying to get started in the industry. But I didn't graduate 2017, it was prior to that. Can I apply?
A. Yes that's fine. We're open to Grads from last 18 months or so if you fit the rest of the criteria for this opportunity.
Q6. I don't qualify for the Graduate Submissions opening. I'm a commercially and professionally experienced composer & producer / have applied for a composer role with you before / work in a different audio discipline. Can I still apply with you?
We have an open door policy and we will review and consider anyone who gets in touch and shares their work with us at any time. If you don't qualify for the Graduate Submissions path, you can get in touch via our Open Submissions channel. To clarify, we created the Graduate Submissions pathway because this is a really tough industry to get into without professional experience – it's that vicious circle. Can't get hired without experience. Can't get experience without getting hired. We want to use this spare capacity we have right now, and the Graduate Submissions channel, to create a specific and genuine opportunity for new talent to really get started.
Q7. Some of my demos are Soundcloud audio tracks, but a couple of them are scored/synced to picture. Do you want sound design on the videos?
It's not essential, because it's your composition/arrangement/production we're really listening for. However feel free to add some if you think it really enhances the piece. It is super-handy in studio if we're pushed for time, and you can handle this occasionally without passing it to the sound design team!
Q8. I'm still studying/involved in something else. So if I'm successful, will you hold the opportunity open for me until I become available later on?
To apply for this opportunity you'll need to be available from the time you send us your submission.
Q9. Does my application format really matter? I'd rather do it a different way than how you've requested.
Yes, it definitely does. In studio, you'll be working with a busy team executing complex written briefs, so we need to know you can correctly interpret and implement a set of written creative and formatting instructions with very little in the way of false starts or micromanagement from others. If your job application is executed just the way we've requested in the job ad, and you've nailed the right style and feel on your demos, you've passed the first test, which is showing us you can do that.
Q10. So I'm going to attach both my CV and my examples/Q&A etc as separate documents to the email, ok?
There should only be 1 attachment, which is your pdf CV. Please DON'T include the examples/Q&A as a second attachment to the email. The examples/Q&A must appear in the body of your email as per the format we've set out – thanks!
Q11. Why do I need to add your email address to my contacts/whitelist?
A. To be sure you'll get our autoresponder confirming we've received your email. That way, you don't have to wonder if we got your message, or phone us or email again to find out.
Q12. So I'm going to really exaggerate my skillsets and experience in my CV because that's what everyone does, right?
A. You're right, people often do this and you can frequently get away with it at initial application stage. However, if we progress to phone interview and demo stages with you, the exaggeration becomes quickly apparent, then things get awkward, and everyone's time has been wasted. So be honest. Don't tell us you have "vast experience" with Pro Tools when actually you've only used it in 2 or 3 projects and you're still feeling your way with it. Don't tell us you have many years of experience working professionally in the industry when you've worked on a few student films and never actually been paid commercially. We don't expect you to be an expert in everything, and a long CV isn't our top priority, it's more important to be as accurate and honest as possible in what you tell us. From our side, it's your 5 demos that really make the first impression. If we connect with those, that's 80% of your job done to get to the next stage of the process. The rest happens when we round out our first impression by looking at your other information we've requested.
Q13. I have a lot of material, all different styles and genres. How do I pick just 5 to best represent me?
A. Check out our Teaser Reel and the "What We're Looking For" bullet points towards the top of this page.
Q14. What sort of examples should I send you?
A. Primarily, check out our Teaser Reel and the "What We're Looking For" bullet points towards the top of this page. Focus on those two sources of creative briefing and inspiration. For context, you can also take a look at past Composer job ads in our website Careers section.
Q15. Why do the links have to be streamable? Can't I just send you a WeTransfer or attach files to the email, or something like that?
A. We used to accept downloadable material, however we've now decided to change our approach. We receive a very high volume of enquiries and submissions, and it's become too unwieldy for us to manage our server space to accommodate the corresponding data storage load for downloadable submissions. So for initial enquiries, streamable links only please, we no longer accept downloads.
Q16. What type of streamable links will you accept?
A. Vimeo, YouTube, Behance, are fine for video. Soundcloud or similar fine for audio only. We're not keen on Google Drive – we find it quite buggy. Passworded access is ok – please use "radium" as the password. Please ensure each of your 5 links lead to a specific video or track. If it leads to multiple videos or tracks, we'll only review the first one on the page. If you include more than 5 demo links, our initial review will only be on the first 5 listed. So choose wisely. Anything requiring us to download an app or subscribe to review won't be accepted.
Q17. Can't I just give you a link to my website/bandcamp/soundcloud account for you to explore? Why does each link have to lead to a single specific track or video?
A. We receive a very high volume of submissions ongoing, and we have limited time to allocate to reviewing each one. Sending us 5 direct links to single audio tracks or videos gives you the opportunity to frame your strongest work so we focus on it right away, we use it to form our first impression, and to make the decision whether we want to explore things further with you.
Q18. I have a really great CV. Shall I just send you that?
A. It's super important to send examples of your creative work. Previously when we've received CVs without examples, we've reached out to request these, however that's now become quite time consuming for us to manage. Going forward, we won't be reviewing applications which only provide CVs, and no links to creative work.
Q19. I'm an aspiring Composer/Producer but I don't have much music to picture material of my own I can submit to you. How am I supposed to give you examples of my work?
A. It's totally ok if you don't have paid professional showreel projects to share – this opportunity is for new industry entrants. However, in our experience, creatives who do best in our environment tend to have already been working independently in their own time to develop their craft, and they've likely been regularly doing this in addition to any University assignments or other commitments. If they haven't had paid projects, then they've been privately rescoring and redesigning film trailers and other video assets, or writing music tracks for their own development, albeit maybe not sharing these publicly for copyright or other reasons. Passworded links to redesigned/resoundtracked videos or are fine to submit. Soundcloud links or similar to straight audio tracks are also fine. If you are rescoring visuals for this application, please be sure these are never made public, and never labelled with Radium's name. Also, you're totally free to create some audio demos specifically for this application.
Q20. I've just finished University. So, shall I just send you links to my University assignments?
A. Yes, you could do that. However, if your University assignments are the only creative work you've done during your time there, this can create an impression that you've been doing just enough to get by, rather than really working to develop yourself independently. So only do that if your Uni assignments speak to the brief we've set out above with our Teaser Reel and what we've said in the "What We're Looking For" bullet points. If you are sending Uni Assignments, we recommend that it's a good idea to include at least a couple of bespoke demo tracks for this application too.
Q21. I have some music examples, but they don't really fit with the tracks you showed me in your teaser reel. Shall I just send them to you anyway? Maybe you'll like them?
A. We went to a lot of effort to let you hear what we do in the teaser reel because if you work with us, you'll be doing that too. So if you don't already have music examples that live in our world, we strongly recommend that you create some before sending us your submission. If your demos don't connect with what we've clearly shown you we're looking for, it's very unlikely we'd be looking to progress your application further.
Q22. Do I have to live near one of your studios to apply?
A. If you're looking for a full time inhouse creative position, you'll need to live within commutable distance of Bristol studio. For possible part time, ad hoc, freelance work you can be anywhere. Please only apply for an inhouse position if you have the ongoing unlimited right to live and work in the UK, you are already living or prepared to immediately relocate within daily travel distance of our studio, and taking employment with us will not breach any conditions of your UK visa.
Q23. Can I submit collaborations with others in my streamable links?
A. We prefer that you don't, because it's you as an individual we're reviewing.
Q24. Can I submit tracks I've made with samples from other tracks?
A. Please don't send us tracks made from samples of other tracks, because we're looking for creatives who write and produce original, sample free content. Using virtual instruments and industry standard libraries of course is totally fine. But if you've taken an existing music track and used elements of the audio to make something new, that's not the skillset we're looking for.
Q25. Can I submit a remix of an existing track?
A. Please don't send us remixes of existing tracks. Again, we're looking for creators of original content, so remixes don't show us what we need to see to assess that.
Q26. I don't really have any tracks like the ones in your teaser reel. Can I just send you work I've already done? You'll be able to hear what I can do from that, right?
A. If you don't already have tracks that speak to our teaser reel, we'd strongly recommend taking some time to produce 2-3 demos in that style so that the majority of what you send us addresses what we're specifically looking for. If you then want to submit a couple of other tracks in different styles/genres to show your range to make up the 5 requested demos, that's totally fine.
Q27. Can I add explanation notes underneath the streamable links?
A. Yes, a couple of lines for each one is fine.
Q28. How will I know if/when you've reviewed my submission? Should I follow up my initial email with another email or phonecall?
A. So long as you've followed our requested format above, we will definitely review your submission just as soon as we can. We prefer that you don't mail or call to follow up, as these further enquiries do become very timeconsuming for us to deal with. We will definitely reach out to you, if we want to see more examples, or have a conversation about moving things forward.
Q29. If you like my application, what happens next?
A. We'll reach out to you via email to either request additional material/info, or schedule an initial phone chat. If we're wanting to schedule a phone chat, we'll usually give 24-48 hrs notice of suggested date & time, so do keep an eye on your email after you've applied.
Q30. Can I get some feedback about my submission?
A. We receive frequent requests for this. In an ideal world we'd love to be able to feed back on all submissions. However, due to volume received and time constraints we simply can't undertake to do this. If we want to follow up further on your submission, we will definitely get in touch with you.
Q31. Does my CV attachment format matter? You've asked for a pdf. I'd rather send it as a word/pages/text/something else file?
A. Pdfs only, thanks! .
Q32. How long will it take you to review my submission?
A. This depends how busy we are inhouse. We'll usually make an initial review within 2 weeks of receipt. Afterwards, submissions may go through several subsequent reviews with the team before we make a decision to reach out to applicants.
Q33. Will you get back to me to let me know the outcome of my application?
A. If you've put the "jobs@radium-audio.com" address in your address book/contacts/whitelist, you'll receive our autoresponder confirming we received your submission. After that, if we want to talk with you further, we'll be in touch. We also send out regular updates about the new opportunities and the outcome of previously advertised openings with our Careers Newsletter You can sign up for that at the bottom of the Careers Page.
Q34. According to the tracking stats on my soundcloud/vimeo/behance/youtube/other you haven't reviewed my work yet. It's been a while since I got in touch with you. Should I get in touch to follow up?
A. We do hear this sometimes, yet when we double check, it almost always turns out we definitely did already review the work. So we don't really know why the stats are showing as unplayed – we don't have an answer for this, sorry!
Q35. If I find out I've been unsuccessful, can I quickly reapply with different or improved demo tracks?
A. It takes a lot of time for the team to review applications and demos. Because it would be very difficult to manage if we undertook to review multiple resubmits from unsuccessful applicants, we've decided against allowing this. So we strongly recommend you listen carefully to our teaser reel, read through and take on board everything we've said about what we're specifically looking for, and be sure to tailor your demos and application to what we've asked for. Take the time and make the effort to really put your best foot forward first time when you apply. If we can hear that your demos are coming close to what we're after, we'll get back to you with feedback and ask you to rework and resend. If we've advised you outright that you've been unsuccessful, and you really want to pursue this particular genre in your career, we ask that you go away and work on your sound and your demos for a minimum of 3 months, before getting in touch with us again. After 3 months or later, if we're still offering the Graduate Submissions pathway, you can apply again that way. If not, or as an alternative, you're welcome to get in touch via our Open Submissions route which is always available.
Q36. How long should I keep my streamable links live?
A. As long as you can. It can often take a while for us to get to your email, as we receive many of these. It also may be that we don't reach out to you straight away but later on we come back to your submission because another opportunity on the team has opened up, so it's helpful if we can still review your work quickly at that later stage. Additionally, whilst we may feel that your application isn't right at the time, a different opportunity could come up later on and we could find ourselves returning to check out your work again then. But we do understand if you prefer to remove the links after a while – it's totally up to you. If we try to review again and find the work is no longer there, we can always reach out to ask you to reshare it.