1708 Visual Creatives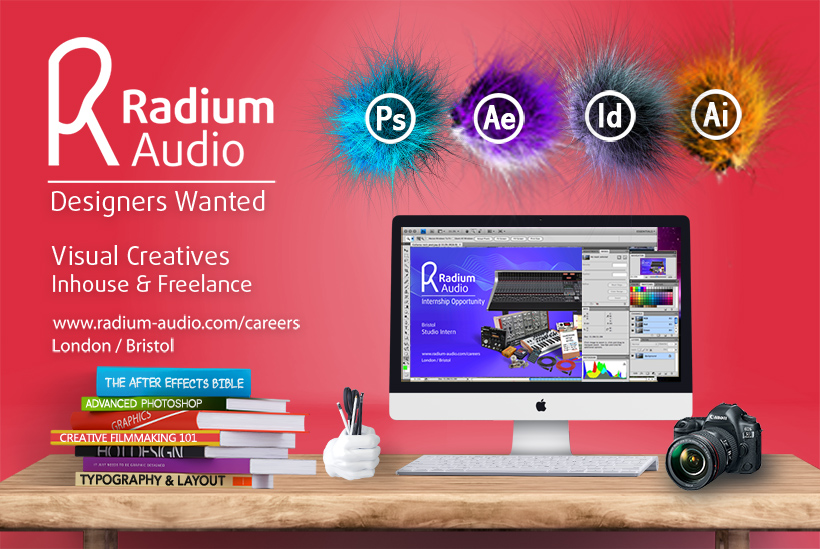 We're looking for new visual design creatives to help us tell our stories. We have ad hoc freelance work available for visual designers, and could possibly evolve a full time inhouse position for a Visual Design Unicorn with a wide skillset including design, artworking and layout skills, with an interest to get involved in filming, editing, After Effects and Premiere work. Check out these 3 links to get a flavour …
Interested? Read on below for more info about freelance and potential inhouse openings, and detail on how to go ahead and apply.
a) FREELANCE OPTION PART TIME AD HOC

We have a lot of visual design/filming work to get through, so we're looking to build a team of regular freelance creatives to help with that. For Adobe Creative Suite Heroes – design/illustration/after effects – remote ad hoc project involvement is fine. If filming/editing, you'll need to spend at least part of your time inhouse and on location with the Bristol team. For freelance involvement, although we find often designers are multiskilled you don't necessarily need to have a broad skillset in visual design. Maybe you're an amazing specialist animator or illustrator, you've checked out out links above and connected with how we're trying to express our world, and working with us appeals.

Aside from doing great work which is a given, we hope you'll be the sort of collaborator who responds promptly to calls, emails and messages, is reliable in keeping to your commitments, and brings a can-do attitude to exploring new ideas. In getting involved with us you'll be working with one of the most exploratory forward thinking teams in sound today, you'll get some highly creative showreel pieces out of it, and have Hollywood standard sound and music on any video/film work you do with us. Most importantly, we really hope you'll connect with what we do, and enjoy the projects we work on together.
b) INHOUSE OPTION FULL TIME – VISUAL CREATIVE UNICORN

For the right person and skills, there's a possibility we could make an inhouse position available. Maybe we'd have worked together for a while freelance at first, to see how we gel together. If the chemistry and flow are there, and you like the idea of being on the team full time, we're definitely open to discussing that. Or possibly you apply on basis that you'd really like to work inhouse, and there's a really great match between us straight away that we're all really keen to move forward with.

Working full time inhouse with us, you'll enjoy a wide range of visual work and need a mixed visual skillset. You'll be working on graphic design, stills, product packaging, and labels. We'll also be asking you to film and edit our videos incorporating behind-the-scenes outtakes, live action creative and storytelling content. Recent projects have included zombies, SWAT, post apocalyptic scenes, after effects, and other various production modes and tools. If you've never filmed before, but you have an amazing visual eye and a really strong interest to get into that, we could help get you started on it so long as you're bringing really strong design/ Adobe Creative Suite chops in with you already, and you're prepared to upskill very quickly in your own time. We have all the gear you'll need inhouse.

Your day could include anything from modifying off-the-shelf visual templates, creating/designing new assets for an upcoming campaign or release, to preplanning a small macro or live action film shoot. You may even find yourself briefing and working with other external designers and visual creatives, as we're looking to build a full team for ongoing projects, and we'll be engaging with specialist external creatives in addition to the inhouse work we do. Most importantly, you'll bring a positive can-do attitude to the table, a passion for wanting to do really great (not just "good enough") work, and be totally up for upskilling yourself on anything new you need to learn to execute ideas. As a sound team, we continually need to figure out new techniques and ideas on how to deliver for our clients, so you'll be bringing that approach as well. We are open to all backgrounds and experience levels, we want to hear from anyone who has passion, talent, creativity, and a positive attitude. Maybe you're a self taught designer, you could be a graduate looking to start your career and get some experience working in the music sector, or maybe you're already working as a designer and you like the sound of getting involved with our team. If you do great work, we'd love to talk to you. We're after team members who passionately love visuals and care about making things look amazing ..
BROAD APPROACH

Strong eye for visual design and presentation.
Researching, prepping and presenting visual moodboards.
Researching and learning new visual techniques and methods.
Positive personality
Conceptual thinker
Detail oriented
CORE TOOLS & SKILLS
We have an ongoing requirement for these:
Photoshop
After Effects
Premiere
Illustrator
InDesign
Staging, Filming & Editing
OTHER SKILLS & RESOURCES *SPECIALISTS SEE HERE*
Freehand illustration
3D Animation
HDMI Camera
Red Giant
Video Co-pilot
LEARNING OPPORTUNITIES *INHOUSE*
If you're coming inhouse with an existing design skillset and expanding into the filming side, here's what you'll be picking up on the fly
Adobe Lightrooom
Canon Filming
Live Action Filming
Colour Grading
Project Management
HOW TO APPLY

1. Ensure you have the email address "jobs@radium-audio.com" in your address book, so you get our autoresponder letting you know we got your email. If you don't receive it, also check your spam, trash, or bin in case it ended up there.

2. Address an email to "jobs@radium-audio.com" with subject line formatted like this:
"1708 Visual Creative – [State "Full Time" or "Freelance", or if both, "Full Time or Freelance"]-[Your Name]-[Your Mobile No]"

3. List in bullet point style your visual design / videography skillsets/tools starting with your best and working downwards. For each one, please state whether you consider yourself to be "superhero", "advanced", "intermediate" or "beginner". A short explanatory paragraph with each is fine if you want to include that too.

4. Underneath your skills bulletpoints, write an introductory message telling us where you saw this opening, and what you're doing right now.

5. Then tell us how you'd like to contribute visually to what we do, and elaborate a bit more on how you see your involvement with us.

6. Next, include weblinks to any still or moving image portfolio material you'd like to share. We're especially interested to see anything you may have which connects with the Pinterest boards and videos we shared above. Why not head back up the page to refresh your memory before you choose what to share with us.

7. Give us an idea of how you prefer to be remunerated. If you operate a rate card please share that info with us. Alternatively if you price by negotiation or on total project basis, give us a couple of costing examples from the work you've shared with us. If you're interested in a full time inhouse engagement, give us an idea of the annual salary / equiv you'd be looking for.

8. Take the opportunity to show us your design and layout skills in your CV, and include it as a pdf formatted attachment. Be sure it includes your current physical address.

9. Read through "Other Stuff" below before hitting "Send". Thanks!
OTHER STUFF

If you're applying to help out on the filming/editing side, and/or you'd like to explore an inhouse option, you'll need to live within commuting distance to Bristol studio, and have the ongoing unlimited right to live and work in the UK. Please be honest and realistic with your rates/costings/salary expectation, as we will take you at your word rather than making an assumption that we'd negotiate later on what you've said. Please spare our server space and don't send huge downloadable attachments and files, go with clickable/streamable links to assets viewed/played from cloud or similar. Website links, Youtube, Vimeo, Behance, all fine. Please don't send anything which requires us to log in to view. Passworded links are fine, please use "radium" as the password. If you've added "jobs@radium-audio.com" to your address book, you should receive our autoresponder confirming we got your message. Check your spam, junk, bin, and trash as well just in case. If we'd like to follow up further, we'll get in touch with you.

Any questions, email jobs@radium-audio.com. Thanks!